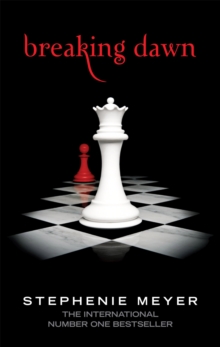 Breaking Dawn : Twilight, Book 4
Paperback
Description
Twilight tempted the imagination . . . New Moon made readers thirsty for more . . . Eclipse turned the saga into a worldwide phenomenon . . . And now - the book that everyone has been waiting for . . . Breaking Dawn.In the much anticipated fourth book in Stephenie Meyer's love story, questions will be answered and the fate of Bella and Edward will be revealed.
Information
Format: Paperback
Pages: 720 pages
Publisher: Little, Brown Book Group
Publication Date: 29/05/2010
Category: Fantasy
ISBN: 9781907410352
Other Formats
Paperback from £7.25
EPUB from £5.99
Free Home Delivery
on all orders
Pick up orders
from local bookshops
Reviews
Showing 1 - 5 of 5 reviews.
Review by Wallflower90
16/06/2015
** spoiler alert ** Fourth Book.I liked the first three...this one, was a dissapointment.Bella. I've told you how much Bella annoys me...haven't I? Well that annoyment(Is that a word??) grew like five times during this book.She begs/forces Edward to have sex with her while she still is human no less...and ends up the first woman to ever bear a vampire/human child that lives? I mean...only Bella can end up in that situation.And then she wan'ts to name the kid Edward or...Renesme? What? Yeah, go ahead and pick a name that noone will be able to pronounce, leave it to Bella to come up with one of the weirdest names in the history of time.And then there's the fact that she continues to hurt Jacob and Edward. The girl is rather selfish and annoying isn't she?Edward. I like Edward. He is one of the coolest vampires ever. But really...does he have to blaim himself for everything? He is cold and angry through alot of the books really...please. Noone can be that selfless. And yet we twilighters love him...Haha..and the fact that he is such an amazing musucian and stuff...is because while he studied everyone else was having sex? That part was just hilarious...Jacob. Okay this whole "I am going to die without Bella" thing is really stupid. Can't he see that she really isn't that great at all? And the imprinting...oh my god. That one...I never saw coming. That was rather disturbing actually. You fall for the baby girl that is the daughter of the girl that you used to be in love with. And the father of said baby girl is the vampire that stole the supposed "love of your life" from you? Can you get more complicated?Of course you can! The baby girl is half vampire half human with super powers(just like mommy and daddy, how sweet)-how strange...because isn't vampires and werewolfs supposed to be enemies til death or something? Hmmm..oh well I'm sure it'll work out. The demon-child is one of a kind and charms everyone so...And lets not forget the fact that Bella managed to get pregnant at all! Have we not been told that theese vampires don't have ANY human-fluids...what-so-ever...then how can Bella be pregnant??? It doesnt really make sense at all...And finally. Bella becomes a vampire. Expected. But a super Vampire? Please, why must you torture me so? She practically skips being a new born (and I, like Emmett, was so looking forward to that part) and has theese super vampire powers...or something. The Volturi gets defeeted and everyone lives happily ever after. They dont even fight the bloody Volturi...they just...talk...what a dissapointment.I am a sucker for happy endings. But this one, was dissapointing
Review by pauliharman
16/06/2015
The Twilight series reaches its inevitable conclusion. A few twists along the way, but nothing unduly surprising. Authorial wish fulfilment at its finest.
Review by iseult6
16/06/2015
Surprising even myself, I devoured the entire Twilight series in less than a week. However, Breaking Dawn was a disappointment.I have no real issues with Part 1 or Part 2. However, I really did not appreciate the turn of the events once Bella becomes a vampire. First of all, she loses her personality, despite frequently claiming that the opposite is true. She changes overnight from an awkward, fashion-backward, uncertain, vulnerable human (frequently annoying but still, a distinct character) into a radiantly beautiful, controlled, agile, impeccably-dressed, powerful vampire queen, and in so doing becomes uninteresting and difficult to relate to. She's supposed to be 18 (well, nearly 19) yet she feels like a 40-year-old. This is not a good thing.Also, and perhaps even more importantly, the relationship between Bella and Edward is ruined for me in this book. As soon as she finds out she is pregnant (literally within minutes), Bella forms an alliance of herself + baby vs. Edward. I know, maternal instinct and all that, but the whole point of Edward and Bella's relationship is that their absolute first priority is each other, no exceptions. It's as if in Breaking Dawn it's suddenly the love story of Bella and Renesmee instead of Bella and Edward. Once married, Bella and Edward spend a LOT of time with the rest of the Cullen family and hardly any time alone. It's almost as if they lose interest in each other's company. I really enjoyed the tender and intense dialogue of the first three books and this was glaringly missing in Breaking Dawn (except for the honeymoon chapters).When preparing for the battle with the Volturi, Bella even admits that she could bear losing Edward as long as her daughter survives. I find this difficult to reconcile with her sentiments from the previous books.The contrast between Bella's human and vampire lives is extreme. Once a vampire, Bella and Edward's plan to go to Dartmouth College somehow goes out the window (and is never brought up again even though Edward already bought a house for them there) and not once does Bella spare a thought for any of her human friends. Not once. Her mother, supposedly her best friend, is only cursorily mentioned in the context of Bella being relieved that their formerly close relationship has fizzled out. WTF?The delicious dichotomy of vampires living their daily lives among the general population of Forks (and it being NORMAL) is all but lost; the Cullen clan seems to live in their own little universe with little contact with anyone else. Although previously a favourite place, Bella never even considers going to La Push, despite the new, strong alliance with the werewolves.This is a minor annoyance, but I raised an eyebrow a few times when money and material possessions were mentioned. The previous three books made no bones about the Cullens' wealth, yet it is very much rubbed in the reader's face in Breaking Dawn. Why is it important to know that Bella carries notes divided into $5000 stacks, or that Alice and Jasper's room has "petty cash" lying around worth twice the average annual household income?Somehow Bella has turned from a girl who loved her rusty 1950's truck in the earlier books into a vampire woman who does not even care to check which sports car she receives for her birthday.Not to mention that the whole storyline about Jacob imprinting on Renesmee and the fact that he basically lives with the Cullens rubs me the wrong way. Edward calling Jacob his brother and SON?! It's just wrong, and not just because of the whole romantic-interest-in-a-newborn-that-will-be-an-adult-in-six-years aspect of it.The author drops the ball so many times that the book reads more like poor fan-fic rather than a genuine part of the saga. I wish I hadn't read the fourth part; it ruined the first three for me.
Review by MichelleAngone
16/06/2015
First things first, why did the series end? I mean, there was so much introduced in the last 3rd of the book that the series could go on and on. I became very interested in the world of the vampires and all the histories and frankly, I'd like a few more books in the series. The wolves could have a series of their own.Midnight Sun draft review (because I don't have an option to review this on Library Thing, I'm going to do it here):Let me note that went to Stephenie Meyer's website to read Midnight Sun.4 starsOther than the fact that this book isn't finished, it is my absolute favorite of the series. Seriously, Meyer needs to finish this book and then write the other books from Edward's point of view! Being a vampire fan and not a big fan of paranormal romance, I was thrilled to see Edward become a "real" vampire in this book. Midnight Sun made all the dialog I thought was so incredibly cheesy in Twilight really come to life for me. I liked knowing what the vampire thought and felt. I also really liked that he is what I thought a vampire should be...kind of dark and a little scary and more than a little obsessive. And as always, a vampire book will always get kudos from me if Anne Rice is mentioned =) If this book would have been finished, I would more than likely have given it 5 stars.As far as the reason Stephenie Meyer's gives for not finishing the book, all I have to say is, "get over it". Your book was leaked, you feel betrayed by someone you trusted. Yeah, I get it. But she is failing to see that she is betraying her fans by not finishing the book. Posting this portion of the book is like a tease. Lots of authors put sample chapters out there or send out advanced reader copies for reviews prior to release. Even if those advanced reader copies are sent out to more people than were intended, I honestly do not believe it has any real affect on sales. For example, my teenage daughter owns the Twilight collection, she has them displayed on a shelf in her room as is proud to show them off. The books say something about her. Even if she were to have a free copy of any of the books, she would still want a copy to sit on her shelf. I'm the same way with my favorite authors. Honestly, how many people that have the other Twilight books would forgo owning this book just because they read part of it for free? I'm betting, not too many. Perhaps Ms. Meyer needs to have a little more faith in her fans. Then again, I'm just pissed off that this book wasn't finished and I really want to get to know the sparkly vampire I despised in other Twilight books
Review by Chuggles
16/06/2015
Only for those who like romances and fantasy. Don't judge the Twilight Saga on the films - they are completely different! The books are so intriguing I couldn't put them down! A MUST READ!! Most of the time I was focused more on the romance side of the books and not the vampire/werewolf side! Fantastic: it's something I can read and read and read again, which I can't do with most books!
Also in the Twilight Saga series | View all