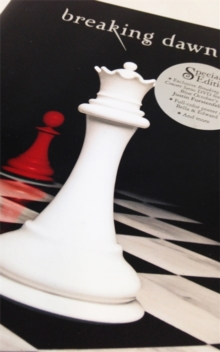 Description
Twilight tempted the imagination ...New Moon made readers thirsty for more ...Eclipse turned the saga into a worldwide phenomenon ...And now - the book that everyone has been waiting for ...Breaking Dawn. In the much anticipated fourth book in Stephenie Meyer's love story, questions will be answered and the fate of Bella and Edward will be revealed.
Information
Format: Hardback
Pages: 720 pages
Publisher: Little, Brown & Company
Publication Date: 04/08/2009
Category: Fantasy
ISBN: 9780316044615
Other Formats
Paperback from £7.25
Hardback from £11.79
EPUB from £5.99
Free Home Delivery
on all orders
Pick up orders
from local bookshops
Reviews
Showing 1 - 5 of 7 reviews.
Previous | Next
Review by jasmyn9
16/06/2015
The final volume in the Twilight Saga was a page turner. There were only a handful of things that I expected and even those happened with an odd little twist. Bella seems to get all she wished for, and then some. Edward and Bella become protectors of a strange little being that no one knew could even exist. The animosity and rivalry between Jake and Edward evaporates as he finds his place with the strange little creature. We see the return of the Volturi and through this situation learn the full extent of the types of devastating special abilites that tend to pop up among the vampires. And the biggest surpise of all is the one Bella herself has. This series just moved up a level because of this book. It went from mediocre, but entertaining, to suspenseful and so interesting that I read this 754 page book in one afternoon.
Review by lisacronista
16/06/2015
The previous three books do not feel like epic tales in the struggle between good and evil, but Breaking Dawn certainly does. The story goes beyond the simple love story between a vampire and a girl. This is a story about marriage, family, and friendship. Bella's parents are divorced, and she struggles with that loss. Edward's heals her pain through his commitment. Edward's plight is his struggle for self control. Falling in love with Bella without killing her results in his salvation. Their union results in blessing for others, especially Jacob. As the Volturis try to rob their happiness, natural enemies unite in spite of past differences. I've read criticism about the apparent references to physical abuse. While Bella is still human, the danger remains that Edward could hurt or possibly kill her. In spite of the bruises she receives, I disagree with the concern. An abuser wounds another out of fear and insecurity. Edward does not fear losing Bella, rather, he fears hurting her. Edward calls himself a monster but discovers he is not because he is able to grow in self-control. As danger increases with the coming of the Volturi, he protects but does not overprotect her.The Twilight series shows us that people who are radically different unite and live well together. And it's not just romantic love that makes it happen. It's every kind of love -- romance, friendship, and the greatest love of all, agape.
Review by twihard17108
16/06/2015
The storyline of breaking dawn was really good. this story was written two perspectives, bellas' and jacobs'. there was a good mixture of romance horror and supernatural events. the writing was good because this was the the first book in the twilight saga to be written in a perspective other than bella's and it was interesting to see what jacob, the "shape shifter" had to say and what he was thinking about. there were three main partsin this book #1. bella's marriage and honeymoon. #2. bella's pregnancy(written in jacob's point of view. and #3. bella changing into a vampire. unlike some i enjoyed this book a lot even though there was a lot of mature and violent scenes more appropriate for and older audience. so if i were you i would recommend this book for 14 and older or mature 13 year olds. (hee hee, I'm 13) WEEE! I'M MATURE!!
Review by Spartanreader
16/06/2015
This was absolutely the best book I have ever read I feel happy inside when I read these books like when you see someone you love and your heart flutters when you see them. I am waiting for my Edward to take me away like ever other girl in america.
Review by bridget1138
16/06/2015
I am reading dreaking dawn. this book was written by Stephenie Meyers. I chose to read this book because i read the rest of the saga.The characters were very good .. Bella Changed and i liked it. Bella changed into a vampire. She also got married and pregnant. While she was giving birth she almost died and edward had to change her into a vampire before she died.Then someone tried to take ther baby away. The book was not as i expected. This book was kind of lame. But the Part about bella was amazing. but the rest i did not like.The characters were all good.I would recommend you read it to see hat happens to bella.