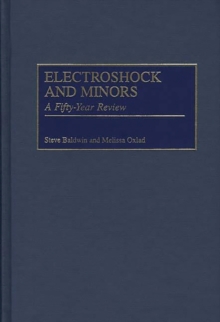 Electroshock and Minors : A Fifty-Year Review
Hardback
Description
In an attempt to explore the explanations why psychiatrists continue to use electroshock with minors already at risk from damage, this text investigates reasons why electroshock remains popular, despite the widespread availability of proven psychosocial alternatives.
The text locates all of the literature since the 1940s about the use of electroshock with minors from three years of age through adolescence. Since the introduction of shock with children and teenagers, the province of psychiatry has been expanded to include minors as young as three.
A fifty-year overview of shock use by psychiatrists with minors is provided, with an analysis of reasons for its popularity among some medical staff.
The review includes results from a meta-analysis study that reports data from over 200 previously published clinical cases.
These results indicate that there is no clinical rationale for the use of shock with children and teenagers.
Moreover, there are many reasons not to give shock, including ethical, philosophical, moral, and humanistic objections.
The continued use of electroshock by psychiatrists persists only due to the clinical independence of medical staff.
There are no controlled evaluations, no randomized controlled trials, no controlled clinical trials, and no single case studies that report outcome data from electroshock given under scientific conditions to minors.
Rather, the entire published literature is based on anecdotal reports from uncontrolled interventions.
The text explores the ethical position of mental health staff who are in the same arena.
Alternatives to electroshock are explored in the context of services for children and teenagers with mental health needs.
Free Home Delivery
on all orders
Pick up orders
from local bookshops