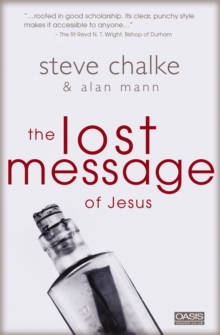 The Lost Message of Jesus
Paperback
Description
A fresh-and perhaps controversial-look at Jesus by one of Britain's most respected Christian authors.
Who is the real Jesus? Do we remake him in our own image and then wonder why our spirituality is less than life-changing and exciting?
Steve Chalke-a high-profile visionary in the United Kingdom and an evangelical recognized not only by Christians but by the general public as well-believes that the real Jesus is deeply challenging. And each new generation must grapple with the question of who he is, because only through a constant study of Jesus are we able to discover God himself.
The Lost Message of Jesus is written to stir thoughtful debate and pose fresh questions that will help create a deeper understanding of Jesus and his message.
It is an encounter with the real Jesus of his world-not the Jesus we try to mold to ours.
Themes include: *The Kingdom of God-shalom-is available to everyone now, through Jesus *The world outside your own church needs to hear of the depth of God's love and suffering *Jesus was a radical and a revolutionary! *Jesus offers immediate forgiveness, without cost, to anyone *Jesus shows us repentance isn't a guilt-laden list of dos and don'ts, but an inspirational vision of a new way to live Focusing on some of the key episodes, events, and issues of Jesus' life, we will see how too often the message we preach today has been influenced more by the culture we live in than the radical, life-changing, world-shaping message Jesus shared two thousand years ago.
Information
Format: Paperback
Pages: 208 pages
Publisher: Zondervan
Publication Date: 30/01/2004
Category: The historical Jesus
ISBN: 9780310248828
Free Home Delivery
on all orders
Pick up orders
from local bookshops
Reviews
Showing 1 - 4 of 4 reviews.
Review by DannyMorris
16/06/2015
Excellent and thought-provoking
Review by DrJane
16/06/2015
Controversial take on the atonement by one of UK's leading evangelicals.
Review by atdCross
16/06/2015
There were many things I agreed with but I found the overall view being given somewhat flawed; there were many things I disagreed with also. One, I felt as if Chalke downplayed the fact that men are sinners, hostile, and rebellious towards God. One can have godly compassion without minimizing the truely sin-wrecked condition of mankind. His insistence that we need not share with others the fact that they are sinners is, from my perspective, flawed. I agree, we ought not beat with a club but we also ought not neglect this facet of the human condition when we share the Gospel.Two, he seems overly critical is certain aspects of the Gospel as it, to him, has been preached. In some respect, he is right that God may be improperlay painted in certain circles, but to use Edward's sermon (p.55-56) is such a negative light ignores that fact that it started a revival! He also seems to totally ignore, as the Bible clearly shows, that men cannot appear before God primarily because of their sinfulness and not because of their sufferings. and he totally mismanages the Bible verses in order to support his view that the cause is the cause of such separation (see p.58). Three, he seems to give he impression that we should accept sinners who attend our church community, which I heartily agree; however, I do not agree, as Chalke seems to imply, that we need to change our position regarding the sinners lifestyle. Maybe a major reason why sinners don't feel welcome in a church is not because the Christians are not loving but because the sinners expect the Christians to change their view respecting the sinner's lifestyle. Where Christians refuse to change the fact that, for example, homosexuality is a sin, the homosexual will be unaccepted and judge the church as unloving.Four, although I agree that violence is not redemptive in and of itself, his take on non-violence is taken so far that it makes me wonder what are his views on being a Christian policeman or what action he suggests should be taken, if any, by a father who witnesses a rape attempt on his child? I don't necessarily disagree with him but only question how can a society escape all forms of violence when, at times, only violence against evil can stop the violence of evil. I'm not advocating the legitimacy of a "just war theory"; I am only questioning if Chalke is advocating that all forms of violence are biblically illegimate. The way Chalke writes, it seems as if he is attempting to distance himself from Christians whom sinners judge as unloving in order to win the sinner over. That does not seem to me to be the right motive or way to evangelize. The message of the Cross is not lost. It has, unfortunately modified somewhat one the one hand, by the Calvinist view of soteriology (which seems to be what Chalke is basically contending against) and, on the other hand, by Chalke himself; and such modifications made by both get in the way of and distort Jesus' message."Lost Message" has a similar message as the book, "If God Were Real" by John Avant (see my review).
Review by SueinCyprus
02/03/2016
A somewhat controversial book which I felt was an excellent read. It explains much of the story of Jesus from a contextual, historical viewpoint, emphasising that the Kingdom of God was - and is - about life rather than death. God is portrayed as a loving Father, and the life of Jesus as pointing us to God. The simple message has apparently been lost through the ages due to misconceptions by various writers, from Augustine in the fourth century, through to some in the Reformation years. <br/><br/>While many disagree with Chalke's central premise, I found it consistent with the Bible and indeed my own early understanding of the Christian faith. The book is thought-provoking and, in my view, very well-written. Highly recommended.