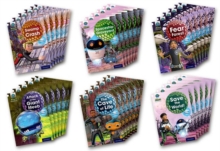 Project X: Project X:Alien Adventures:White:Class Pack of 36
Multiple copy pack
Part of the Project X series
Description
The micro-ship is forced to make a crash-landing on Planet Kree-Marr.
What will be lurking in the swamp? Find out in Swamp Crash!In Spaceship Graveyard Ant, Tiger and Seven try to find the jammer that caused their ship to crash, but what else will they find among the tangled wrecks?Max, Cat and Nok hide from the scary Meebs, but what they don't know is that something even more frightening awaits them.
Find out what in Fear Forest. In Danger Below Ant, Tiger and Seven are forced to hide underground to escape the Krools.
But will they be any safer below the surface? In The Cave of Life our heroes meet the living soul of Planet Kree-Mar - Kree-Ator - who tells them where to find the next Fragment of Exis, but they soon find that getting it won't be that easy. Kree-Ator needs the micro-friends' help to save Planet Kree-Marr, but will they be able to defeat the Krools and the Mega-Meeb?
Find out in Save the World!Each book comes with notes on the inside front and back covers for teachers, TAs and parents/carers, which give question prompts and points for discussion, challenge words, and additional activities that children can do.
Information
Format: Multiple copy pack
Pages: 32 pages, Colour
Publisher: Oxford University Press
Publication Date: 05/09/2013
Category: Educational material
ISBN: 9780198493389