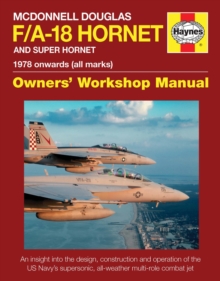 McDonnell Douglas F/A-18 Hornet and Super Hornet Owners' Workshop Manual : 1978 Onwards (All Marks)
Hardback
Description
The US-designed and built McDonnell Douglas F/A-18 Hornet is one of the most important Fourth Generation fighters in the world.
Its twin-engine, twin-tails (canted outwards) and leading edge root extensions make it one of the most recognisable fighters in operation.
The latest version is the enlarged Super Hornet. It was controversial in being chosen as the replacement for the much loved F-14 Tomcat, but the truth is that it is a potent and fearsome fighter that boasts one of the most capable radars in service (it can operate in both air and ground modes near-simultaneously) and a weapons loadout that takes full advantage of it.
The Super Hornet currently performs the bulk of the Western world's airstrikes on the nefarious terrorist group 'ISIS' in Iraq and Syria.Developed initially by Northrop as the P-530 Cobra in response to the US Air Force's Light Weight Fighter competition (winner: the General Dynamics F-16), the Hornet had a troubled start in life.
Designated the YF-17 for the LWF fly-off in 1974, it failed to impress the Air Force.However, contractor McDonnell Douglas stepped in confident that it could be improved sufficiently to make it a contender for the US Navy's new fighter competition. McAir, as was often the case, were right. Redesigned and redesignated the F/A-18 (fighter/attack), it won the competition and entered service with the US Navy as a carrier-borne, multi-role fighter, marking the beginning of the Hornet's journey from Air Force 'reject' to 'king' of the US Navy's Fleet Defenders.
Information
Format: Hardback
Pages: 160 pages
Publisher: Haynes Publishing Group
Publication Date: 05/01/2017
Category: Military aircraft
ISBN: 9781785210549
Free Home Delivery
on all orders
Pick up orders
from local bookshops