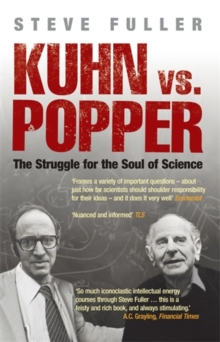 Kuhn vs Popper : The Struggle for the Soul of Science
Paperback
Description
Thomas Kuhn and Karl Popper, a young historian and an old philosopher, met just once to discuss the nature of science.
Yet, for the last half-century Kuhn's triumph has dominated public discussions on the topic. But could the million copies sold of Kuhn's The Structure of Scientific Revolutions betray an error in collective judgement?
Steve Fuller says yes: not only have we judged wrongly, but we have also radically misunderstood the parties in the process. The future of science itself depends on understanding the philosophical, political and even religious basis of what separated Kuhn and Popper.
Drawing on his own original examination of the Kuhn archives at MIT, Fuller provides an exhilarating tour of a battle that goes to heart of what we think science is.
A provocative account of a landmark confrontation in which `the wrong guy' won.
Other Formats
PDF from £5.99
Hardback from £20.65
Free Home Delivery
on all orders
Pick up orders
from local bookshops
Reviews
Showing 1 - 1 of 1 reviews.
Review by Jewsbury
16/06/2015
On the face of it, this book is a third-hand account written by a sociologist about two second-hand opinions provided by philosophers about science. However, it is actually something quite different. On the one hand it is a passable description of the characteristics of science, and on the other hand it is a worrisome look at how science is portrayed in the postmodern age. This it shows how easy it is for arguments to generate corrupt impressions. Language is a means to manipulate thoughts and opinions. Thus it matters how science is defined. Fuller looks at the social environment in which science is carried out, and he includes this social environment within the methods of science. Furthermore he deems science's domain is to cover all knowledge. Thus he adds traditional sciences' antithesis, sociology, as part of science. What he is really describing is not science but a scientific culture based on an assortment of philosophical ideas, analytical procedures, systematic organization and sociological influences. This mingling of a broad science and its culture lets him present sociology as the common thread and legitimate central controller of his science. Now, sociology makes decisions by argument and debate as in parliament (the dialectic model). In contrast, traditionally scientific opinion is tested by experimentation but is always more tentative and qualified. The postmodern critics of traditional science argue that because science does not deliver absolute certainty all other suggestions should be given equal prominence. Except that they do not entertain the argument (heresy) that attention be paid to the conditional likelihoods of all arguments. Their objections reveal fear and incomprehension of conditionals. Thus the refusal of traditional science to give equal credence to unsupported political belief causes Fuller great consternation. To him science is being irrational. Of course there is much to read and mull over in the text. He discusses how history is written by victors, how each person's writings can be interpreted in opposing ways, various deductive fallacies, and how scientific results have social consequences. Thus scientists have an ethical responsibility for the social consequences of both their actions and inactions. He likes to drop the occasional incendiary. As an example I will end with his contention that the sciences do not belong in universities. He opines that science's purposeful narratives alienate the humanities who are the generic central corps of the university.
Also in the Revolutions in Science S. series | View all