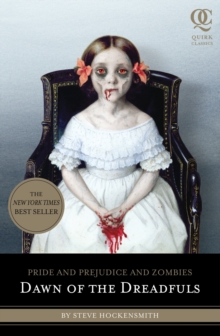 Pride And Prejudice And Zombies
Paperback
Description
At the opening of the international bestseller "Pride and Prejudice and Zombies", Elizabeth Bennet is already a seasoned warrior-trained in the martial arts, skeptical of romance, and determined to wipe out the deadly dreadfuls.
But how did Elizabeth get that way? And where did all of the zombies come from? Readers will witness the birth of a heroine in Dawn of the Dreadfuls - a thrilling prequel set three years before the horrific events of "Pride and Prejudice and Zombies".
This comic-horror novel is an all-new work of fiction from acclaimed novelist, Steve Hockensmith.
As our story opens, the Bennet sisters are enjoying a peaceful life in the English countryside.
They idle away the days reading, gardening, practicing instruments, and daydreaming about future husbands-until a funeral at the local parish goes strangely and horribly awry.
Suddenly corpses are springing from the soft earth-and only one family can stop them.
As the bodies pile up, we watch Elizabeth Bennet evolve from a naive young teenager into a savage slayer of the undead. We laugh as she begins her first clumsy training with nunchucks and katana swords, and cry when her first blush with romance goes tragically awry.
Through it all, of course, readers will be treated to scene after scene of absurd zombie carnage.
Complete with 15 dazzling illustrations, "Dawn of the Dreadfuls" invites readers to step back into Regency England-Land of the Undead.
Information
Format: Paperback
Pages: 320 pages, Two-Colour
Publisher: Quirk Books
Publication Date: 01/03/2010
Category: Horror & ghost stories
ISBN: 9781594744549
Free Home Delivery
on all orders
Pick up orders
from local bookshops
Reviews
Showing 1 - 5 of 47 reviews.
Previous | Next
Review by titania86
16/06/2015
The first indication that the dreadfuls had returned was when Mr. Ford rudely tried to walk out of his own funeral. This is where teenaged Elizabeth Bennet sees her first unmentionable. (The zed word is not said in polite society.) Mr. Bennet was involved in the previous zombie war, but gave up the deadly arts when the menace appeared to have been vanquished. Now that the dreadfuls have returned, he seizes the chance to redeem his honor and train his daughters in the deadly arts. Elizabeth may not be the most talented or accomplished pupil, but she is definitely the most energetic and voracious. Between the initial zombie war and the recent outbreak, there had been a long time of people being buried in the normal way: with their heads attached. Now, all of these long buried dead have clawed their way out of graves all over Hertfordshire. Can the horde be stopped by the Bennet family and a hundred new, barely trained soldiers or will all hope be lost?Hockensmith took great characters and put them in an entirely different situation while still preserving their essential being. The origins of the Bennet sisters fit very well with the image of them in Pride and Prejudice and Zombies. Jane's kindheartedness and compassion endures through her harsh training. Elizabeth is disillusioned and alienated by two different men, leading to her hard outer shell. The new characters introduced were wonderful. They are very flawed characters with dimensions, but most of them still managed to be likeable. The two that evoked the most feeling in me were Dr. Keckilpenny and Lord Lumpley. The doctor was quirky, cute, and absent minded. His extreme focus on finding scientific solution to the zombie problem was interesting. Lord Lumpley, on the other hand, was disgusting, lascivious, and made me feel dirty just reading about him. I liked that the point of view was in the third person and focused on different characters throughout the novel. It gave a peek into the inner workings of characters that wouldn't normally be showcased.I was very interested in the way society was portrayed in the novel. When the Bennet girls first start to train, they are seen as social pariahs. This has to do with the tradition role of women in society and racism. Of course when the sisters were saving people that ostracized, the girls were popular and welcome. The attitude of the government when it didn't let people know the full extent of the zombie outbreak to keep people calm is reminiscent of many modern zombie novels. I've never seen this before in a book set in a different time period. These two aspects gave the story a bit of realism that made it easier to suspend disbelief and made me more engrossed with the story.Dawn of the Dreadfuls was awesome. I loved this book. It was a great, fast read that moved fluidly. I think Steve Hockensmith had a slight advantage over Seth Grahame-Smith in that he didn't have to fit his writing into an existing text and try to blend the two together. This all new story was a much faster read than its predecessor, but just as enjoyable. The big zombie fight at the end really had me on the edge of my seat. I look forward to whatever Steven Hockensmith will do in the future.
Review by Ginerbia
16/06/2015
I was drawn in from the very first page. Mr. Bennet and I share the same feeling when it comes to funerals: revulsion. It's my belief that funerals bring out the worst in people. Take Mrs. Bennet for instance. She was commenting on the quality of the casket and busy making sure her eldest daughter, Jane was displaying herself properly. Never know when one might meet a prospective husband. Then of course there is Mr. Ford, the guest of honor at the funeral, who didn't even have the social grace to stay put in his casket. When Mr. Ford started thrashing around, the whole congregation went berserk, mostly Mrs. Bennet.Then things get interesting. Mr. Bennet tells Elizabeth and Mary to follow him towards the zombie. This is the girls' first exposure to the undead and they ultimately fail to put it out of commission. Mr. Bennet, trained in the deadly arts, quickly dispatches the zombie and realizes that he must train his girls in the deadly arts as well. They need to be trained not only for their own protection, but also to repair a vow he had broken to a secret league of warriors he used to belong to.Throughout the story, the girls learn all sorts of fighting moves and how to use various weapons, much to the displeasure of Mrs. Bennet. Not only are the girls fighting zombies, they are also becoming social outcasts. They have to deal with stares and whispers from their neighbors and even get uninvited to a ball. This doesn't seem to bother the girls very much as they have realized what is most important.One of my favorite lines from the book is when Elizabeth is debating with herself if she should follow her father towards the undead Mr. Ford. "And then a third voice chimed in, one Elizabeth didn't even recognize at first, so well trained were proper young ladies in ignoring it. The voice of Self."I think this is a great "girl-power" story where zombies are metaphors for anything that would traditionally be considered a man's job. Personally, I wouldn't want the job of dispatching zombies, but I do enjoy my freedom to have that choice. The Bennet girls had to break out of the mold society and their own mother made for them.This was an excellent story and I enjoyed reading it. The story line flowed quite nicely from one event to another. Witty, exciting and liberating would be how I would describe it.Here are a few more of my favorite lines from this book:"A battle cry shatters the shackles of good manners and gentility""Ladylike be damned!"and last but not least..."You're all so quick to point out what you can't do. The time has come to learn what you can."
Review by krau0098
16/06/2015
Okay guys this is my first Giveaway on my blog and it is being offered through Quirk Books!I read and enjoyed both "Pride and Prejudice" and "Pride and Prejudice and Zombies" (PPZ). So when I heard that a prequel to PPZ was being released I was excited. I mean, finally, we get to learn all about how Elizabeth Bennet and her sisters got their awesome fighting skills. I got a copy of Dawn of the Dreadfuls through Quirk Books. I actually enjoyed this book more than PPZ; Hockensmith has created some great tongue-in-cheek characters and the book was very well done!This book follows the Bennet family as they discover the first dreadful rising (out of a coffin at a funeral), through training the Bennet girls receive, to the inevitable massive zombie attack.Hockensmith did a great job in keeping the tone of the story similar to PPZ. Mrs. Bennet was definitely the Mrs. Bennet from PPZ and Jane and Elizabeth also maintained their character very well. I thought the story actually flowed much better than PPZ; probably because Hockensmith got to control the storyline this time and could match it to the characters better. Hockensmith has created some fabulous character additions. Master Hawksworh (the Bennet's instructor in the deadly arts) and Dr. Keckilpenny (a doctor who seeks to cure the dreadful affliction) are a lot of fun. The fighting scenes are well done and more inclusive than in PPZ, again I think that being able to incorporate the action scenes fully into his own story helped Hockingsmith out on this one. The plot takes some interesting twists and turns towards the end of the story which I really enjoyed.My only complaint would be at times the characters are a little bit over the top. This is a small complaint. I know these over-the-top characters are there for humor, and many times, they are very funny. At times though it goes a bit over-board and feels forced. The dialogue is witty and entertaining enough all on its own; it didn't need any more than that to be funny.Overall I liked this book even better than PPZ. It was entertaining, engaging, and had me chuckling a number of times. Hockensmith did a good job staying true to the main characters nature, even if the additional characters sometimes went a bit over-the-top with their actions.
Review by sensitivemuse
16/06/2015
I can tell you, that I LOVED this book as much as P & P & Z. It had the wonderful moments of humor and wit that I experienced before and enjoyed. You will see the original characters except for a few (no Darcy or Bingley here, sorry. This does take place before they met Lizzy and Jane). You read more about Mr Bennet who seems to take a more active role in the story (he helps trains his daughters to become warrior women). However the book also introduces new memorable ones which will prove unforgettable and absolutely hilarious to read. What I thought was interesting was the nice reference made with the mysterious "soldier" the left and broke Mrs Bennet's heart when she was a girl. If you're well versed in P & P then you'd know what I'm taking about. It's these little references to the main novel that make the prequel do justice to P & P & Z. Readers also be advised, this book is meant to be a parody, and a funny one at that. If you treat it with a sense of humor, enjoyment is increased tenfold.Of the new characters, I enjoyed Dr Keckilpenny (really, with a name like that, what's not to enjoy?) the most. First, because no one seems to get his name right (except for Lizzy), and second because he just seemed to be so friendly and so likable. Lord Lumpley played your average greaseball with a secret – I especially enjoyed how he tried his advances on Jane, but to no avail. Then you get one of the most interesting characters I have ever seen, and that is Captain Cannon who uses four of his soldiers as arms and limbs (you have just to read it to get a good laugh). The moment I started reading about his arms and limbs made me laugh, but it made the book much more enjoyable with these kinds of new, strange yet quirky characters.The book was very well written, the plot flowed well and did not stop. The humor was in the right places at the right times so reading this book was enjoyable and fun. There is gore. Lots of it. I think moreso than P & P & Z. So, if you are not into that sort of theme. Perhaps this book may not be for you. However this would be great for zombie fans and will satisfy P & P & Z readers, it's a well done prequel and will be listed as one of my favorites for 2010.Overall, I love this book. What I would like to see next, is another zombie novel but with Darcy and Bingley before they met the Bennet sisters. That would be interesting, I think. Who knows where the Dreadfuls will strike next?
Review by haleyknitz
16/06/2015
Dawn of the Dreadfuls is hilarious! Hockensmith has captured Austen's original characters and brought them back (from the dead) in a gruesomely wonderful prequel to Pride and Prejudice. This Zombiefied quirky classic will have you snickering and giggling like Lydia and Kitty. (By the way, I'm officially adding Zombiefied to my dictionary. It's an awesome word.)The writing was so much like Austen's that I began to wonder if it really wasn't by her. It was eloquent and witty and almost audible in that you could hear the accents of the speakers and the narrator.Content: an occasional dirty word (I think d--- was used like, twice in the whole book?), very few sexual references. But remember that we're talking about dead brain-eating zombies here, people. It's not for the faint of heart (or stomach) and it's not for kids.Recommendation: 12+ If you love the paranormal, horror, or anything Jane Austen, this one is for you.Dawn of the Dreadfuls will be published on March 24th 2010.