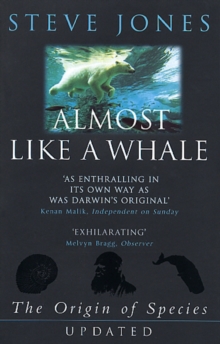 Almost Like A Whale
Paperback
Description
In his new book, Steve Jones takes on the challenge of going back to the book of the millennium, Charles Darwin's The Origin of Species.
Before The Origin, biology was a set of unconnected facts.
Darwin made it into a science, linked by the theory of evolution, the grammar of the living world.It reveals ties between cancer and the genetics of fish, between brewing and inherited disease, between the sex lives of crocodiles and the politics of Brazil.
Darwin used the biology of the nineteenth century to prove his case.
Now, that science has been revolutionized and his case can be reargued using the twentieth century's astonishing advances.
From AIDS to dinosaurs, from conservation to cloned sheep, bursting with anecdotes, jokes and irresistible facts, Almost Like a Whale is a popular account of the science that makes biology make sense.
It will catch the millennial mood and tell all those for whom Darwin is merely a familiar name what he really meant. It exposes the Darwinian delusions which try (and fail) to explain human behaviour in evolutionary terms, and, while giving an up-to-date account of our own past, shows how humans are the first species to step beyond the constraints of biology.
Information
Format: Paperback
Pages: 544 pages
Publisher: Transworld Publishers Ltd
Publication Date: 01/09/2000
Category: Evolution
ISBN: 9780552999588
Free Home Delivery
on all orders
Pick up orders
from local bookshops
Reviews
Showing 1 - 2 of 2 reviews.
Review by psiloiordinary
16/06/2015
I don't do it very often so this is very special - a five star rating for a book.Steve Jones sets out to update Darwin's Origin with modern evidence and examples. He always reminds me of a cheeky schoolboy chortling through life having a wonderful time. He gives me the same impression with this book, whilst at the same time not endangering the respect we have for his knowledge of biology.I have heard him describe his own knowledge of biology as "extremely wide and incredibly shallow." In this book it appears both wide and deep. Tales are told with assurance, simplicity and good humour. No prior knowledge is necessary so this can act as a great introduction to this huge subject. A cracking good read.
Review by nocto
16/06/2015
Absolutley fabulous book covering everything about how we know evolution is what actually happened; just brilliant, took me forever and a day to read it but it was never a slow read, just thick and dense with fascinating facts and explanations. Highly recommended.