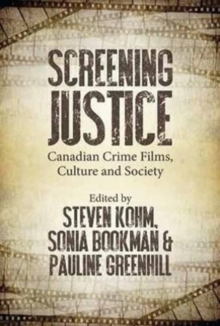 Screening Justice in Canada : Canadian Crime Films and Society
Paperback / softback
Description
What do Canadian films say about crime and justice in Canada?
What purpose do Canadian crime films serve politically and culturally?
Screening Justice is a scholarly exploration of films that focus on crime and justice in Canada.
Contributors to this edited collection argue that crime films are pivotal for understanding and shaping Canadian sensibilities about justice by setting out widely available templates for thinking about crime, justice and society.
They argue that films offer accessible cultural spaces to contest mainstream assumptions about the ways race, class, gender, place and culture produce and reproduce crime.
Spanning disciplines and examining films from across Canada, Screening Justice is the first comprehensive Canadian volume on crime films that takes up cultural criminology s call for more critical scholarly analyses of the interplay between crime, culture and society.Defining Canadian crime films as movies that focus significantly on crime and its consequences in Canadian society, the book is as much about the ways crime films provide vehicles for understanding what it means to be Canadian as it is about the depiction and representation of crime and justice in Canadian cinema and television. The films examined in this book span all regions of Canada and include case studies of films set in Atlantic Canada, Nunavut, British Columbia s Lower Mainland, the Prairies, Ontario and Quebec.
Moreover, Canadian crime films produced from the 1930s to the present are included in these analyses.
Contributors to this multi- and interdisciplinary volume are drawn from criminology, criminal justice studies, English literature, art history, film studies and communications, cultural anthropology, sociology, and women s and gender studies.
Adopting American criminologist Nicole Rafter s concept popular criminology, the essays in this volume all take crime films seriously as popular efforts to understand the causes, consequences and meanings of crime in Canadian society."
Information
Format: Paperback / softback
Pages: 280 pages
Publisher: Fernwood Publishing Co Ltd
Publication Date: 26/04/2017
Category: Cultural studies
ISBN: 9781552668160
Free Home Delivery
on all orders
Pick up orders
from local bookshops