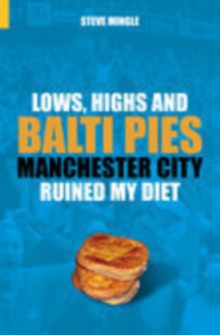 Lows, Highs and Balti Pies
Paperback
Description
Lows, Highs and Balti Pies comprises vivid, colourful and highly individual recollections of City's most memorable games over the past 37 years.
One hundred matches are featured, starting with a 5-2 drubbing of Sheffield United in 1967 and ending with the 4-1 triumph in the first derby at the cursed City of Manchester Stadium.
Not all of the games in between provided quite as much pleasure.
The book contains affectionate portraits of the City greats down the years, together with fortright appraisals on the rich assortment of blundering buffoons which the club has seen fit to inflict upon its famously loyal supporters.
However, even when describing the club's darkest moments and teh individuals responsible for them, humour is never far away - be it biting, dry, self-deprecating or just plain daft.
This approach capture perfectly the essence of what it is to be a City fan.
The book also embraces diverse elements of popular culture over the period.
Musical reference points abound, whilst the likes of Sid Waddell, Curly Watts, Ian Hislop, Tony the Tiger and Cyanide Sid Cooper all somehow find themselves featuring in the story. And how the hell did Albert Pierrepoint get in there?
The games chosen generally present a balanced picture of the club's ups and downs over the years but - even in the interests of fair-mindedness - the author can't bring himself to include any of the numerous defeats suffered at the hands of Manchester United.
After reading the book, you'll understand why. When it comes to United, we are not dealing with a fair-minded man.
All long-term followers of football causes will be well familiar with the emotional peaks and troughs described so strikingly in this book.
Most, like the author, will have experienced more troughs than peaks.
But it's the range of imaginative, often scarcely credible, ways in which City have brought both highs and lows into the lives of their fans which truly sets them apart.
It's a remarkable story, vibrantly and entertainingly told.
Free Home Delivery
on all orders
Pick up orders
from local bookshops