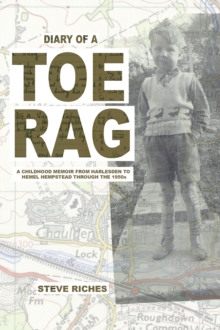 Diary of a Toe Rag : A childhood memoir from Harlesden to Hemel Hempstead through the 1950s
Paperback / softback
Description
More than 28,000 innocent people murdered, homes reduced to rubble.
Time to escape from bombed-out London to a land of greenery and opportunity, brand-new houses, social harmony and who knows what?
No one did, back then. Oh, and a bit of routine sexism, racism, a touch of pilfering and vandalism, no phones, cars or TV, ruinous debt, a deadly diet, a dose of religion, true love aged 11 and lots of other stuff. That's Harlesden to Hemel Hempstead for you. Or at least it was... Diary of a Toe Rag was inspired by the inquisitiveness of the author's grandchildren, along with the chance to introduce the only man who knew everything in the whole world.
Granda. It starts in 1950 and ends in 1962, a parcel of social history delivered as a childhood autobiography.
Information
Format: Paperback / softback
Pages: 172 pages
Publisher: Granda Publishing
Publication Date: 26/10/2018
Category: Autobiography: general
ISBN: 9781916441309
Also by Steve Riches