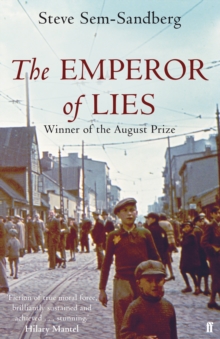 The Emperor of Lies
Paperback
Description
In February 1940, the Nazis established what would become the second largest Jewish ghetto in the Polish city of Lodz.
Its chosen leader: Mordechai Chaim Rumkowski, a sixty-three-year-old Jewish businessman and orphanage director, and the elusive, authoritarian power sustaining the ghetto's very existence.
From one of Scandinavia's most critically acclaimed and bestselling authors, "The Emperor of Lies" chronicles the tale of Rumkowski's monarchical rule over a quarter of a million Jews.
Driven by a titanic ambition, he sought to transform the ghetto into a productive industrial complex and strove to make it - and himself - indispensable to the Nazi regime.
Drawing on the chronicles of life in the Lodz ghetto, Steve Sem-Sandberg captures the full panorama of human resilience, and questions the nature of evil.
He asks the most difficult questions: Was Rumkowski a ruthless opportunist, an accessory to the Nazi regime driven by a lust for power? Or was he a pragmatic strategist who managed to save Jewish lives through his collaboration policies?
Information
Format: Paperback
Pages: 672 pages, Illustrations
Publisher: Faber & Faber
Publication Date: 07/07/2011
Category: Crime & mystery
ISBN: 9780571259205
Other Formats
Paperback from £7.69
EPUB from £6.39
Free Home Delivery
on all orders
Pick up orders
from local bookshops
Reviews
Showing 1 - 1 of 1 reviews.
Review by fist
27/08/2015
During WWII, the Lodz ghetto was the last to be evacuated. Its chairman Rumkowski had turned it into a special production zone, whose inhabitants produced useful output for the German war economy and thus were spared the transfer to the extermination camps until very late in the war. At the same time, Rumkowski had to accommodate the Germans, and eliminate all non-productive elements from the ghetto, amongst which were its children. His notorious "Give me your children" speech is included in the book.This novel offers descriptions of various characters (many of which actually existed) who lived in this ghetto as it descended into starvation and extermination during the war years. Some of these characters really come alive on the pages, but Rumkowski remains an enigmatic figure, an evil deus ex machina rather than the personification of hamletian ethical dilemmas. At the end the dry narrative style of the book, so effective on describing the hunger, fear and violence, veers off into a rather unfortunate magical realism. What I'll remember from this book are the odd combinations of human pettiness and heroism, ruthless selfishness and suicidal generosity amidst the gradual descent into misery and annihilation.