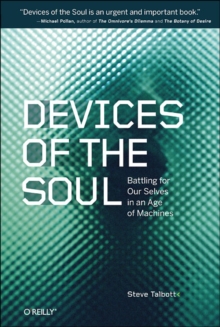 Devices of the Soul
Hardback
Description
Self-forgetfulness is the reigning temptation of the technological era.
This is why we so readily give our assent to the absurd proposition that a computer can add two plus two, despite the obvious fact that it can do nothing of the sort - not if we have in mind anything remotely resembling what we do when we add numbers.
In the computer's case, the mechanics of addition involve no motivation, no consciousness of the task, no mobilization of the will, no metabolic activity, no imagination. And its performance brings neither the satisfaction of accomplishment nor the strengthening of practical skills and cognitive capacities.
In this insightful book, author Steve Talbott, software programmer and technical writer turned researcher and editor for The Nature Institute, challenges us to step back and take an objective look at the technology driving our lives.
At a time when 65 percent of American consumers spend more time with their PCs than they do with their significant others, according to a recent study, Talbott illustrates that we're forgetting one important thing - our Selves, the human spirit from which technology stems. Whether we're surrendering intimate details to yet another database, eschewing our physical communities for online social networks, or calculating our net worth, we freely give our power over to technology until, he says, "we arrive at a computer's-eye view of the entire world of industry, commerce, and society at large an ever more closely woven web of programmed logic." Digital technology certainly makes us more efficient.
But when efficiency is the only goal, we have no way to know whether we're going in the right or wrong direction.
Businesses replace guiding vision with a spreadsheet's bottom line.
Schoolteachers are replaced by the computer's dataflow.
Indigenous peoples give up traditional skills for the dazzle and ease of new gadgets.
Even the Pentagon's zeal to replace "boots on the ground" with technology has led to the mess in Iraq. And on it goes. The ultimate danger is that, in our willingness to adapt ourselves to technology, "we will descend to the level of the computational devices we have engineered - not merely imagining ever new and more sophisticated automatons, but reducing ourselves to automatons."To transform our situation, we need to see it in a new and unaccustomed light, and that's what Talbott provides by examining the deceiving virtues of technology - how we're killing education, socializing our machines, and mechanizing our society.
Once you take this eye-opening journey, you will think more clearly about how you consume technology and how you allow it to consume you.
Other Formats
EPUB from £14.39
PDF from £14.39
Paperback / softback from £13.15
Free Home Delivery
on all orders
Pick up orders
from local bookshops