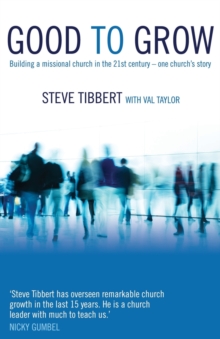 Good to Grow: Building a Missional Church in the 21st Century - One Church's Story : Building a Missional Church in the 21st Century-One Church's Story
Paperback / softback
Description
How one south London church grew to over 1,000 in 15 years and the lessons learned along the way.
Leading a church brings lots of challenges but when the church is growing, the challenges grow too.
Leadership strategies and decisions can make or break the healthy ministry wisdom and grace are in big demand!
Information
Format: Paperback / softback
Pages: 160 pages
Publisher: Authentic Lifestyle
Publication Date: 01/07/2011
Category: Christianity
ISBN: 9781860248122