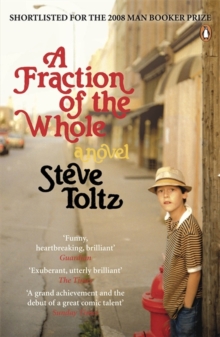 A Fraction of the Whole
Paperback
Description
Steve Toltz's A Fraction of the Whole is a riotously funny explosion of a novelSHORTLISTED FOR THE MAN BOOKER PRIZE 2008From his prison cell, Jasper Dean tells the unlikely story of his scheming father Martin, his crazy Uncle Terry and how the three of them upset - mostly unintentionally - an entire continent.
Incorporating death, parenting (good and bad kinds), one labyrinth, first love, a handbook for criminals, a scheme to make everyone rich and an explosive suggestion box, Steve Toltz's A Fraction of the Whole is a hilarious, heartbreaking story of families and how to survive them.'A fat book but very light on its feet, skipping from anecdote, to rant, to reflection, like a stone skimming across a pond . . . it is brilliant' Guardian'Sparkling comic writing . . .It gives off the unmistakeable whiff of a book that might just contain the secret of life' Independent'With tinges of magical realism and buckets of misanthropic humour it's a clever and funny debut' Observer'If first novels were sandwiches, Steve Toltz's would be a juicy, swaggering doorstop of a sarnie, overflowing with eccentrically combined but delicious ingredients . . . Toltz is a superb phrase-maker with an acute eye for humanity's shortfalls'Big IssueSteve Toltz was born in Sydney.
After graduating from Newcastle University in 1994, he has lived in Sydney, Montreal, Vancouver, Barcelona and Paris, working primarily as a screenwriter and freelance writer, but also doing stints as both a private investigator and an English teacher.
A Fraction of the Whole is his first book.
Information
Format: Paperback
Pages: 720 pages
Publisher: Penguin Books Ltd
Publication Date: 01/05/2009
ISBN: 9780141031828
Free Home Delivery
on all orders
Pick up orders
from local bookshops
Reviews
Showing 1 - 3 of 3 reviews.
Review by BoundTogetherForGood
16/06/2015
This is the 711 page tale of Jasper and his father, Martin. Fractions of stories are related; those stories are fractions of their lives, and their lives are fractions of the greater world. All of this was inspired by a quote from Emerson "The moment we meet with anybody, each becomes a fraction." The plot twists and turns so many times it would seem unbelievable if I tried to list some of the things that happen in this book. The whole thing is a bit on the dark side, but with humor throughout. Toltz manages to poke fun at modern day Australian society through the telling of his work of fiction. The main part of the book is Jasper telling the reader the story of his life but to do so he must also tell us of his father's life, and to do that he must tell of his father's brother's life too. At times, the point of view is changed and the story is taken over by Martin's voice. The pace rolls furiously; the reader doesn't lose interest. I was a bit worried at the length of this book, wondering if maybe I would find the whole story pointless. I actually liked it. I liked the way the author connected a lot of different threads of the story. It speaks a lot about relationships and philosophy but what it says is interesting and I can believe that some people do feel the way the characters felt even though I don't. Toltz manages to take some pretty crazy characters and cause the reader to empathize with them. The story is, at the same time, funny and tragic. I think I picked this book up because of the cover and the title initially. I probably then read the blurb on the back cover and decided to give it a try. I read the whole book during a week's holiday in Portugal in October 2009. It was a great piece of fiction for a beach vacation.
Review by alexrichman
16/06/2015
Some 700-page novels contain intricately plotted narratives, filled with ingenious foreshadowing and satisfying pay-offs. This is not one of them. Integral characters and components pop up and drift away throughout, and the book takes such ludicrously sharp twists that it's a wonder the spine isn't knotted. The one-liners are relentless, and some of them are even funny, but this is a seriously light book in a heavy package.
Review by bookmart
16/06/2015
What a fantastic book in all meanings of the word. Steve Toltz has created some great charaters with wonderful philosophies and thoughts on life. A very entertaining read, humourous and sad.