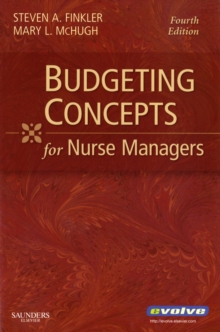 Budgeting Concepts for Nurse Managers
Paperback / softback
Description
An in-depth guide to preparing accurate nursing budgets, this book will help you improve your financial skills and contribute to your organization's strategic planning.
It discusses the different types of budgeting, the budgeting process, forecasting, variance analysis, and costing out nursing services.
A variety of settings are included: hospitals, long-term care, home health, community health, managed care, and others.
With this guide, you'll learn how to communicate effectively with financial managers, succeed in your role in the budgeting process, and assist in the delivery of high-quality patient care at the lowest possible cost. Each chapter includes Learning Objectives to focus your study and a Summary and Implications for Nurse Managers to reinforce what you've learned. Additional Suggested Readings provides helpful resources for further research and study. An appendix includes numerous sample budget forms and instructions, allowing you to see firsthand the various types of budgeting forms used in day-to-day practice. New "Budgeting for Information Systems" chapter describes how to budget for information technology (IT), what kind of personnel you should consider hiring to support the nursing IT function, and how to evaluate IT products. New "Budgeting for the Operating Room" chapter covers key stakeholders in the budget development process, developing the prioritization process, and specialized aspects of the operating room budget. A discussion of magnet hospitals has been added, including the cost implications of applying for "magnet" status. Coverage now includes different delivery care models and their potential budgetary impact to a health care organization, along with Clinical Ladders and the budgetary implications of nurses "testing-up" the ladder. Budgeting for clinics and same-day surgery facilities is described. Updated and expanded content discusses budget variance analysis and interpretation of budget reports that differ from the planned budget. Includes the budget implications of outsourcing, and how to determine whether outsourcing is cost-effective for a particular service.
Information
Format: Paperback / softback
Pages: 520 pages
Publisher: Elsevier Health Sciences
Publication Date: 06/09/2007
Category: Budgeting & financial management
ISBN: 9781416033417
Free Home Delivery
on all orders
Pick up orders
from local bookshops