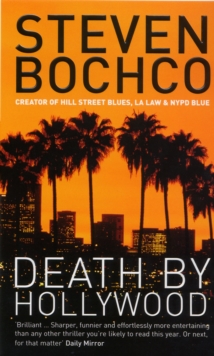 Death by Hollywood
Paperback
Description
One evening, spying on his Hollywood Hills neighbours through his $4,000 electronic telescope, Bobby witnesses a beautiful woman making love to a handsome Latin actor called Ramon.
As their pillow talk turns ugly, Bobby watches in horror as the woman appears to bludgeon her lover to death with his own acting trophy.
Instead of rushing to the cops, Bobby decides to find out more about the events that led up to the crime, and to use the material for his next movie screenplay.
However, when he sneaks into the actor's apartment, the discovery he makes changes his life forever.
Empowered by his secret knowledge, Bobby is able to seduce the beautiful woman, while forging a unique friendship with Detective Dennis Farentino, the cop in charge of the investigation.
Before long Bobby has dragged the detective, his wife, his lover, and his agent into a Hollywood fun-house hall of mirrors, where only the most manipulative player will survive.
Information
Format: Paperback
Pages: 288 pages
Publisher: Bloomsbury Publishing PLC
Publication Date: 06/09/2004
Category: Crime & mystery
ISBN: 9780747571100
Free Home Delivery
on all orders
Pick up orders
from local bookshops
Reviews
Showing 1 - 2 of 2 reviews.
Review by soylentgreen23
16/06/2015
Highly recommended by The Daily Mirror - so I should have known better. However, it only took me a couple of hours to steam through this predictable, poorly constructed novel. I'll put my time to better use in the future.There are some good ideas in here, nuggets buried in dung. It's the execution that grates - the amatuerish writing style, the constant tangents, the coarse language; compared to "The Player", there's no heart to the story, and the characters are laughably one-dimensional.
Review by isabelx
16/06/2015
The story I want to tell you involves, among other things, a screenwriter whose career is fading out more than it's fading in, a billionaire's wife, and a murder - which means, of course, there's also a cop.Steven Bochco, creator of "Hill Street Blues", "LA Law" and "NYPD Blue", is a Hollywood insider and has written an extremely entertaining murder story with a twist in its tail.Narrated by an agent, it is the story of a murder of an actor and its aftermath. One of the agent's clients, screenwriter Bobby Newman, is spying on his neighbours through a telescope when he sees the murder being committed, but rather than calling 911 to report it, he decides to use it as the basis of a new screenplay.