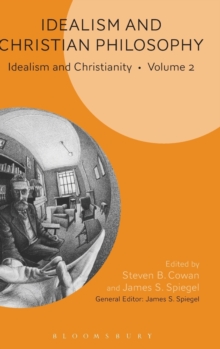 Idealism and Christian Philosophy : Idealism and Christianity Volume 2
Hardback
Description
When it comes to contemporary philosophical problems, metaphysical idealism-or Berkeleyan immaterialism-is not taken seriously by most philosophers, not to mention the typical Christian layperson.
This state of affairs deserves some attempt at rectification, since Idealism has considerable explanatory power as a metaphysical thesis and provides numerous practical and theoretical benefits. Such thinkers as George Berkeley and Jonathan Edwards believed that Idealism is especially amenable to a Christian perspective, both because it provides a plausible way of conceptualizing the world from a theistic standpoint and because it effectively addresses skeptical challenges to the Christian faith.
The contributors to this volume explore a variety of ways in which the case can be made for this claim, including potential solutions to philosophical problems related to the nature of time, the ontology of physical objects, the mind-body problem, and the nature of science.
Free Home Delivery
on all orders
Pick up orders
from local bookshops