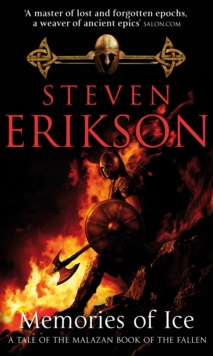 Memories of Ice : (Malazan Book of the Fallen: Book 3)
Paperback
Description
The ravaged continent of Genabackis has given birth to a terrifying new empire: the Pannion Domin.
Like a fanatical tide of corrupted blood, it seethes across the land, devouring all who fail to heed the Word of its elusive prophet, the Pannion Seer.
In its path stands an uneasy alliance: Dujek Onearm's Host and the Bridgeburners - each now outlawed by the Empress - alongside their enemies of old including the grim forces of Warlord Caladan Brood, Anomander Rake, Son of Darkness, and his Tiste Andii, and the Rhivi people of the Plains.
But more ancient clans too are gathering. As if in answer to some primal summons, the massed ranks of the undead T'lan Imass have risen.
For it would seem something altogether darker and more malign threatens the very substance of this world.
The Warrens are poisoned and rumours abound of the Crippled God, now unchained and intent on a terrible revenge... Marking the return of many favourite characters from GARDENS OF THE MOON and introducing a host of remarkable new players, MEMORIES OF ICE is a thrilling new chapter in Erikson's magnificent epic fantasy and another triumph of storytelling.
Information
Format: Paperback
Pages: 1200 pages
Publisher: Transworld Publishers Ltd
Publication Date: 01/10/2002
Category: Fantasy
ISBN: 9780553813128
Free Home Delivery
on all orders
Pick up orders
from local bookshops
Reviews
Showing 1 - 5 of 8 reviews.
Previous | Next
Review by macha
27/08/2015
this is where the whole series really hits the sublime and the characters all become both larger than life and human all too human, including the dead. Dujek's semi-renegade army of disparate aims and unlikely alliances, perennially in danger of falling apart, finally comes together decisively in the aftermath of the last battle, in which the Bridgeburners fight their last engagement, while the Mott Irregulars make their bones by not being found, and both Whiskeyjack and Itkovian the Mortal Sword become legend. unexpected friendships act to change the world, the elder races gain an appreciation for the human ability to surprise, and the Malazan professional army offers a new model, a new way of looking at the world. meanwhile Lady Envy and her Seguleh conduct their own investigations, the Master of the Deck creates new choices, Silverfox's brave new birth as prophecy turns in on itself, the Barghast Hetan has a frank and interesting style of courtship in the field, Elder Warrens and Elder gods change their aspects, a K'Chain Che'Malle Matron embraces Toc the Younger to his considerable discomfort, and Bauchelain and Korbal Broach arrive. Anamander Rake singlehandedly wins a 10-second battle against two hundred thousand Tenescowri, but even the net result of the complexly disordered battle in Coral is not so easy to assess; fortunately, they import Duiker the Imperial Historian to come to terms and do the writeup.
Review by lewispike
16/06/2015
Another vast epic piece. In this one we meet mortals, gods, ascendants, see the passing of some, the birth of several others, the vanishing of the bridgeburners, by Dujek's wish.A synopsis is hard - the book is 1200 pages long. Lots is discovered about the nature of the threat still to come. More new peoples and powers are revealed.Yet again this could become massive, wandering and imprenetrable. Instead it remains wondeful, twisting and enthralling. Whilst it's a huge war story, armies, sieges and so forth, there's a hugely tender and affecting love story with a tragic ending woven through the story too.It should have 6 stars really.
Review by edlib
16/06/2015
Erikson has got one heck of a word processor, or he's been writing mauscripts for years and just got them all published at once. Continuation of the Mazazan Book of the Fallen, and like its predecessors a major effort of worldbuilding. Well worth it, but start with "Gardens of the Moon."
Review by clong
16/06/2015
In some ways this was even better than Erikson's superb, compelling, and astonishing Deadhouse Gates. BUT, I did have some issues with unexplained character actions, and the conclusion of the book left me somewhat unsatisfied. I still believe that Erikson's Malazan Book of the Fallen series is the best of the huge multi-volume fantasy epics in progress. Many of the strengths of the first two volumes remain: a multi-layered and complex world and magic system that are internally consistent, gritty military campaigns, surprises, momentous events, and an interesting mixture of characters and races (human and non-human). Several of the new characters are strong, and we learn much about the fascinating past and present of Erikson's world. As I indicated, most of this book was superb. My disappointment with Memories of Ice comes down to my perception that the plot is driven by curious actions by key characters that are never really convincingly explained. WARNING: SLIGHT SPOILERS TO FOLLOW. . .Things like Silverfox's treatment of the Mhybe, Dujak's efforts to secretly rush his forces to Coral before his allies, or Paran and Quick Ben's lenience with the Seer. And the two necromancers take up quite a bit of plot time, without any explanation of who they really are and why they are here. On the other hand, I suspect that these books might be better the second time around; perhaps these actions made sense and I just missed it, or perhaps they will be explained in later volumes. A very good book, but ultimately not up to par with the best of the series.
Review by DRFP
16/06/2015
What to make of the Books of the Fallen? I was rather lukewarm to the Malazan series after the first two volumes. Both <i>Gardens of the Moon</i> and <i>Deadhouse Gates</i> had their moments but were undone in various different ways. I had elected to give the series one final try with <i>Memories of Ice</i> and to give up on the series if it didn't sufficiently impress me. Well, impress me it did: MoI is definitely the best Malazan book so far and I've been persuaded that the series is worth continuing with after all.In a way though, this is a curious affair. It does seem to me that it would be much better to read this book straight after GotM rather than DG. The meat of the story, of perhaps the entire series, seems to have been revealed here and that adds a lot of impetus to the overall story that was slightly lacking from both previous books. Then there are the little details: the Trygalle Trade Guild seemed like a huge deus ex machina in DG, but actually seems much more reasonable in the context of this book. Even the epilogue of MoI seems like a set up for reading DG thereafter. Having finished MoI, I really didn't think that much, if anything, would be spoilt by reading this book before the previous instalment. But that's just my opinion and I'm not sure how many might agree or disagree.As for MoI on its own... It was very good. Not perfect by any means, but very good. I don't think Erikson is quite as good a writer as the likes of Abercrombie or GRRM are, or at least he's not as consistent. Erikson's dialogue can veer from sharp and insightful to clunky, and there are times when events are recounted and explained for us in such an obvious way that it's silly. Yet for all of that the siege of Capustan and the assault on Coral are set piece spectaculars that will live long in my memory alongside other memorable recent fantasy chapters like the Red Wedding. After three books I feel like I'm comfortable in knowing what to expect from Erikson in terms of prose: very solid, capable of the odd misstep but still with an ability to write scenes of great power.Although, for all his many words and pages, I'm still not entirely convinced about Erikson's ability to write nuanced characters or even detail his fantasy world. The likes of Dujek and Whiskeyjack are likeable characters but I'm not sure I could say what type of person they were beyond, honourable and reliable. In fact many of the characters in this novel fall into that sort of category. They're enjoyable to spend time with but they're not all that distinct, something I think seen most obviously in the slightly amorphous unit that are the Bridgeburners. Similarly, although Erikson has given his world a long history some of its more recent aspect feel rather vague, even after some 3000 pages. For me the most obvious example of this is the Malazan empire itself - 3000 pages and I don't know much of its structure, how it came to be or even its motivations for expansion (perhaps I'm supposed to assume that's just what empires do?). This might be fleshed out in future books (and Erikson has certainly answered some of my early criticisms as the series has progressed) but when these books are <i>so</i> long it feels a little frustrating to notice some central parts of the world aren't fully rounded.As ever it's easier to focus on what you don't like than what you do but one thing I must give Erikson special credit for is having woven a story which mixes very well an immediate and low level threat with a greater but further off danger. I think in this area the author <i>has</i> done as well as the likes of GRRM in <i>A Song of Ice and Fire</i> in balancing out the needs for action now with a greater danger further down the line.Every Malazan book is a mammoth undertaking but I'm glad I gave the series one more try. The story came to life this time round and even if the characters aren't all wonderfully multi-faceted I was still gripped by the carnage that unfolded in MoI. I now want to know where the story will go and how it will be resolved - and at the end of the day you can't ask for too much more than that. I'm finally a believer, I think the Malazan series really is worth the effort.
Also in the The Malazan Book Of The Fallen series | View all