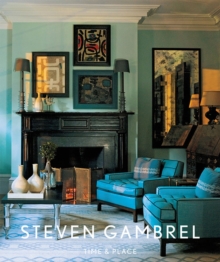 Description
The first book from renowned New York-based designer Steven Gambrel showcases his bold and innovative designs.
Featuring 10 individual residences photographed by Eric Piasecki, Steven Gambrel illustrates the designer's fresh approach to color and composition in creating spaces that reflect, support, and enhance the lifestyles of today while at the same time embracing the history of each individual home.
From Manhattan townhouses and apartments to beachside retreats in the Hamptons, Gambrel has a passion for timeless and unique interiors that allow him to design a backdrop for individual and changing lives.
The photographs and accompanying text, written by Gambrel himself, reveal the inside stories behind stunning interiors that feature his signature mix of the modern and the traditional, and give the reader a window into his unique inspirations and design point of view.