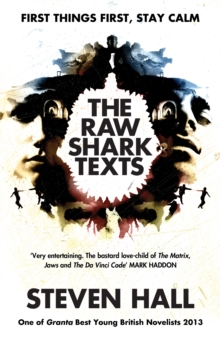 The Raw Shark Texts
Paperback
Description
One of Granta's Best Young British Novelists. Eric Sanderson wakes up in a place he doesn't recognise, unable to remember who he is.
All he has leftare journal entries recalling Clio, a perfect love now gone.
So begins a thrilling adventure that will send Eric and his cynical cat Ian on a search for the Ludovician, the force that is threatening his life, and Dr Trey Fidorus, the only man who knows its secrets.
Information
Format: Paperback
Pages: 448 pages
Publisher: Canongate Books Ltd
Publication Date: 06/09/2007
ISBN: 9781847670243
Other Formats
eAudiobook MP3 from £8.24
CD-Audio from £13.29
EPUB from £5.39
Free Home Delivery
on all orders
Pick up orders
from local bookshops
Reviews
Showing 1 - 5 of 8 reviews.
Previous | Next
Review by nagem13
16/06/2015
Well, when I saw a shark made out of text on the cover of this book, I knew that I had to check this book out. The protagonist, Eric Sanderson, apparently has chronic amnesia. The major question permeating in the novel is whether or not Eric is experiencing what he's experiencing in his head, or if it's really happening. Or, an even bigger question, if that even matters. I'm not sure... In any case, it's part Jaws part House of Leaves when the conceptual shark attacks.The scenes with Eric and his girlfriend, Clio, kind of gave me heartache. I know that sounds corny, but I thought Hall portrayed intimacy between lovers quite effectively. I found my reaction especially interesting since a few other reader reviews that I read found the Eric/Clio stuff really lame. Sigh... I guess these things can be rather subjective. In any case, Hall makes a good point when he argues that once someone's gone, you can't capture their essence completely with words... things always get left out, and you just forget things over time. As Regina Spektor sings, "Thought I'd see your face in my mind for all time, But I don't even remember what your ears looked like." In my experience, that's a sad truth.
Review by murraymint11
16/06/2015
I enjoyed this book, despite it being a little weird and wacky. I suppose the style reminded me of Extremely Loud and Incredibly Close, but the storyline felt more like a movie script; in fact the final few chapters were lifted straight out of the Jaws movie, so much so that it gave the ending away! Different.
Review by rolhirst
16/06/2015
The Raw Shark Texts by Steven Hall, which starts out as an intriguing riff on Christopher Nolan's Memento, and then just goes completely mental. I'm still about a hundred pages from the end, so I'm not sure if it'll all tie together, but so far Hall's debut is as close to being a British Chuck Palahniuk as I've yet read. And it features a cat called Ian, so what else do you need?
Review by laphroaig
16/06/2015
Eric wakes up without any memories and carefully crafted instructions on how to meet his psychologist. After that, things all becomes a little strange. Eric learns of a world-within-a-world, in which language is more than just living, it is an ecosystem ... and as with any ecosystem there are some very, very nasty predators.The Raw Shark Texts' imagination burns brightly throughout the book. Halls familiar and yet fantastic, abstract world is painted in great swathes of colour with strong, compelling characters and a post-modern, punkish, anti-authoritaniasm flavour. Despite this its style is friendly and compelling, its main character likable and its language is vibrant and clever (at one point a character is said to a have a "headmaster-late-for-assembly walk"), through which its plot twists and turns through kooky and sometimes plain nasty developments.Some of this is layered on a little too thick. Eric's companions are occasionally too much tank girl and too little real person - all black humour and clever comeback - and the novel's bizarre use of imagery (some pages are pictures made of words) is arresting, but by the end is beginning to feel like a gimmick.Not everyone will like it. I did. Worth a try.
Review by Rynooo
16/06/2015
Although the ideas aren't particularly original and the writing is a little bland, I have to say I really enjoyed The Raw Shark Texts. Given the scope, it's surprisingly unpretentious, and the unashamedly deliberate nod to Jaws in the final chapters actually works pretty well in the context of the story.It's Hard Boiled Wonderland and The End Of The World meets The House of Leaves meets Jaws.