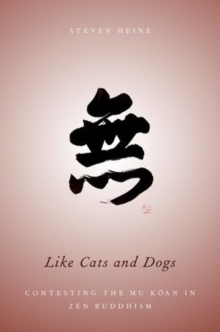 Like Cats and Dogs : Contesting the Mu Koan in Zen Buddhism
Paperback / softback
Description
A koan is a narrative or dialogue used to provoke the "great doubt" and test a student's progress in Zen practice.
The Mu Koan consists of a brief conversation in which a monk asks master Zhaozhou Congshen whether or not a dog has Buddha-nature.
The reply is Mu: literally, ''No.'' This case is widely considered to be the single best known and most widely circulated and transmitted koan record of the Zen school of Buddhism.
The Mu Koan is especially well known for theintense personal experiences it offers those seeking an existential transformation from anxiety to spiritual illumination.
Steven Heine demonstrates that the Gateless Gate version, preferred by Dahui and so many other key-phrase advocates, does not by any means constitute the final word concerning the meaning and significance of the Mu Koan.
Another impact version has been the Dual Version, which is the ''Yes-No'' rendition to the Mu Koan.
Like Cats and Dogs offers critical insight and a new historical perspective on ''the koan of koans.''
Information
Format: Paperback / softback
Pages: 288 pages, 15 b & w
Publisher: Oxford University Press Inc
Publication Date: 02/01/2014
Category: Oriental & Indian philosophy
ISBN: 9780199837304
Other Formats
Hardback from £92.85
PDF from £24.22