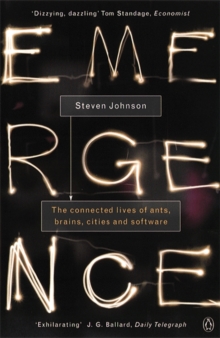 Emergence : The Connected Lives of Ants, Brains, Cities and Software
Paperback
Description
Steven Johnson's Emergence: The Connected Lives of Ants, Brains, Cities and Software is a fascinating look at how self-organising systems are changing the world. Why do people cluster together in neighborhoods?How do internet communities spring up from nowhere?Why is a brain conscious even though no single neuron is?What causes a media frenzy? The answer, as Steven Johnson's groundbreaking book shows, is emergence: change that occurs from the bottom up.
When enough individual elements interact and organize themselves, the result is collective intelligence - even though no-one is in charge.
It is a phenomenon that exists at every level of experience, and will revolutionize the way we see the world. 'Exhilarating' J.G. Ballard 'A dizzying, dazzling romp through fields as disparate as urban planning, computer-game design, neurology and control theory' Economist 'Mind-expanding ... intelligent, witty and tremendously thought-provoking ...
Popular science books interesting enough to read twice don't come along all that often' Guardian 'Not just a fascinating quirk of science: it's the future' The New York Times Steven Johnson is the author of the acclaimed books Everything Bad is Good for You, Mind Wide Open, Where Good Ideas Come From, Emergence and Interface Culture.
His writing appeared in the Guardian, the New Yorker, Nation and Harper's, as well as the op-ed pages of The New York Times and the Wall Street Journal.
He is a Distinguished Writer In Residence at NYU's School Of Journalism, and a Contributing Editor to Wired.
Information
Format: Paperback
Pages: 288 pages
Publisher: Penguin Books Ltd
Publication Date: 01/08/2002
Category: History of ideas
ISBN: 9780140287752
Free Home Delivery
on all orders
Pick up orders
from local bookshops
Reviews
Showing 1 - 1 of 1 reviews.
Review by hotchk155
16/06/2015
This is really fascinating stuff, and the kind of thing I have been dipping into for a while. Though I found this book a little bit shakey to start with, it soon picks up the page-turning momentum of a good thriller.Steven Johnson takes us on a journey through self-organising systems as different as slime moulds, businesses in medieval Florence and eBay. The unexpected emergent behaviour of systems based on simple rules is a bizarre and fascinating subject (at least to me). Emergent effects, ranging from traffic jams to human consciousness itself, affect us in all aspects of our lives. This book shows a very different viewpoint to the way things really work. The emergent behaviours of societies and social networks is particularly interesting, and is demonstrated very well with examples taken from the internet, such as slashdot and eBay.In common with chaos theory and quantum mechanics, the science of emergent systems shows that the more we discover and understand the rules and mechanisms behind the universe, the less we are actually able to predict what will happen. The world will alway be able to suprise us - I actually find that quite heartening!