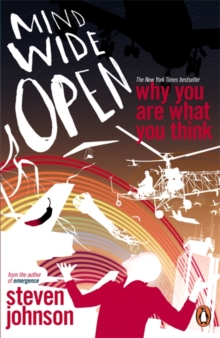 Mind Wide Open : Why You Are What You Think
Paperback
Description
From the author of Emergence and The Ghost Map, Steven Johnson's Mind Wide Open: Why You Are What You Think takes us on a journey to the frontiers of brain science and reveals exactly how we're hardwired to think and feel. 'You are part reptile, part mammal, part primate. You are a dopamine fiend. You are a walking assembly of patterns and waves, clusters of neurons firing in sync with one another...' Experimenting with the latest technology, Stephen Johnson discovers (among other things) that everything we do - from falling in love to forming a sentence - is caused by neurons firing and chemicals swirling around our heads; that there are gadgets which can enable us to control our own brainwaves; that everyone's mind, like their fingerprint, is unique; and this can help us understand our own mental foibles - and see ourselves in a totally new way. 'As Steven Johnson explores his inner world ... we have a new sense of what it means to be human' The New York Times 'Refreshingly personal ... endlessly fascinating' Guardian 'Steven Johnson has an eye fro the most interesting new ideas in this exploding field, and he explains them with insight and gusto' Stephen Pinker Steven Johnson is the author of the acclaimed books Everything Bad is Good for You, The Ghost Map, Where Good Ideas Come From, Emergence and Interface Culture.
His writing appeared in the Guardian, the New Yorker, Nation and Harper's, as well as the op-ed pages of The New York Times and the Wall Street Journal.
He is a Distinguished Writer In Residence at NYU's School Of Journalism, and a Contributing Editor to Wired.
Information
Format: Paperback
Pages: 288 pages
Publisher: Penguin Books Ltd
Publication Date: 26/05/2005
Category: Popular science
ISBN: 9780141011158
Free Home Delivery
on all orders
Pick up orders
from local bookshops
Reviews
Showing 1 - 1 of 1 reviews.
Review by Parthurbook
16/06/2015
Johnson is a very engaging writer, with a keen turn of phrase and an ability to connect complex theory with everyday experience (the story of the windblown window is particularly affecting). Here he covers many of the current investigations into neuroscience with considerable learning and appealing humour. But at the end - and I lost momentum about 3/4 of the way through - I was left feeling this is a collection of really interesting magazine articles, rather than an integrated whole. Good journalism, but not quite best in class.