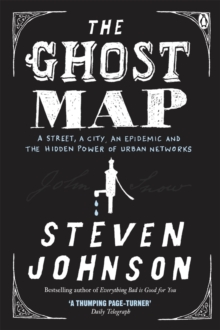 The Ghost Map : A Street, an Epidemic and the Hidden Power of Urban Networks.
Paperback
Description
From the bestselling author of Everything Bad is Good For You, Steven Johnson's The Ghost Map vividly recreates Victorian London to show how huge populations live together, how cities can kill - and how they can save us. Steven Johnson is one of today's most exciting writers about popular culture, urban living and new technology.
In The Ghost Map he tells the story of the terrifying cholera epidemic that engulfed London in 1854, and the two unlikely heroes - anesthetist Doctor John Snow and affable clergyman Reverend Henry Whitehead - who defeated the disease through a combination of local knowledge, scientific research and map-making. In telling their extraordinary story, Steven Johnson also explores a whole world of ideas and connections, from urban terror to microbes, ecosystems to the Great Stink, cultural phenomena to street life. 'A wonderful book' Mail on Sunday 'A thumping page-turner' Daily Telegraph 'Enthralling ... vivid and gripping' New Statesman 'Exhilarating' Spectator 'It is a rattling scientific mystery, but in the hands of Steven Johnson it becomes something much richer ... a vast, interconnected picture about urban and bacterial life ... it is difficult to do justice to the exuberance of Johnson's ideas' Scotland on Sunday Steven Johnson is the author of the acclaimed books Everything Bad is Good for You, Mind Wide Open, Where Good Ideas Come From, Emergence and Interface Culture.
His writing appeared in the Guardian, the New Yorker, Nation and Harper's, as well as the op-ed pages of The New York Times and the Wall Street Journal.
He is a Distinguished Writer In Residence at NYU's School Of Journalism, and a Contributing Editor to Wired.
Information
Format: Paperback
Pages: 320 pages
Publisher: Penguin Books Ltd
Publication Date: 31/01/2008
Category: Social & cultural history
ISBN: 9780141029368
Free Home Delivery
on all orders
Pick up orders
from local bookshops
Reviews
Showing 1 - 2 of 2 reviews.
Review by eleanor_eader
16/06/2015
"It makes for good museum copy to talk about an Age of Dinosaurs or an Age of Man, but in reality it has been one long Age of Bacteria on this planet since the days of primordial soup." [author paraphrasing Stephen Jay Gould]The Ghost Map is a marvellously interesting, frightening, disgusting and accessibly told history of the 1854 Cholera outbreak that took place in London's Soho area – the geographical and bacterial influences that fuelled it, the men who investigated the cause and course of it and came to an understanding of the water-borne nature of the disease, and the sociological ramifications it leaves us with.While genuinely fascinating, this one isn't for the squeamish; much of this book describes and dwells upon effluence and excrement – completely understandable, and didn't put me off reading it at all, although it did rather put me off contracting Cholera, (never exactly on my to-do list). More importantly, I learned a great deal from this book – about human waste, the natural evolution of recycling, bacteria, medicine in the 1800's, the way that urban development has changed the evolution of both man and bacteria. Not flawless, because the author has so many angles to examine that it sometimes feels like you've crammed in all twenty lectures at a convention in one sitting, but it's elegant and oddly beautiful in its detailed observation of the way London became the perfect breeding ground for V. cholerae. Engrossing and informative and another non-fiction recommendation for anyone who can stand the subject matter!
Review by TerriBooks
16/06/2015
This is a fascinating exploration of a specific outbreak of cholera in 19th century London, that the author uses as a jumping-off to all sorts of more general topics related to it. Middle of the 19th century, and the germ theory of disease had yet to appear... so why do pockets of this awful disease appear? I was intrigued by the idea that the real culprit -- it was spread through the drinking water -- was rejected by most, even in the face of what seems obvious evidence, because the scientists of the time "knew" that disease was spread through miasma (bad air). (How often are we blinded by what we already know?) The chain of cause and effect, the history of urban living and water supplies, and the development of a specific theory for this specific disease are told in a way that grabs attention and makes you want to keep reading.