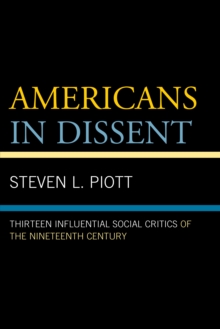 Americans in Dissent : Thirteen Influential Social Critics of the Nineteenth Century
Paperback / softback
Description
Americans in Dissent is designed as a collection of biographical essays written for general readers and undergraduates that focuses on the topic of American dissent during the period from 1830 to 1890.
Centered on influential nineteenth-century social critics, this volume shifts the focus of American reform away from "romantic" attempts at reforming the individual to more pragmatic efforts aimed at confronting social, economic, and political problems.
Coexisting with what seemed to be a preponderance of romantic idealism during much of the period was an undercurrent of genuine realism.
Instead of looking through the prism of a pre-modern society, many of these dissenters focused on how society was becoming increasingly acquisitive and entrepreneurial.
They were among the first to question laissez-faire individualism and unrestrained industrial capitalism and anticipated the critiques of later Progressive Era reformers.
Representing a wide range of interests, each of the selections features a fascinating and provocative man or woman who offered a fundamental critique of American society and made a significant contribution to the development of the reform ethos that characterized the period.
Information
Format: Paperback / softback
Pages: 254 pages, 5 Halftones, black and white
Publisher: Lexington Books
Publication Date: 29/08/2016
Category: History of the Americas
ISBN: 9781498505703