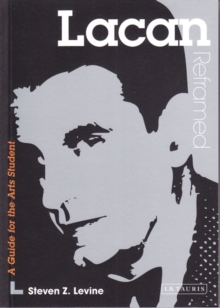 Lacan Reframed : Interpreting Key Thinkers for the Arts
Paperback
Description
Are your students baffled by Baudrillard? Dazed by Deleuze? Confused by Kristeva? Other beginners' guides can feel as impenetrable as the original texts to students who 'think in images'. "Contemporary Thinkers Reframed" instead uses the language of the arts to explore the usefulness in practice of complex ideas.
Short, contemporary and accessible, these lively books utilise actual examples of artworks, films, television shows, works of architecture, fashion and even computer games to explain and explore the work of the most commonly taught thinkers.
Conceived specifically for the visually minded, the series will prove invaluable to students right across the visual arts.
Single-handedly responsible for the influential and ominous notion of 'the gaze', quoted by everybody yet fully understood by few, Lacan's work can be difficult to grasp.
Going back to basics, this introduction guides the reader through Lacan's key concepts by looking at art from the Mona Lisa through to Bridget Riley's paintings, and by looking afresh at key works discussed by Lacan himself, from Holbein's famous 'The Ambassadors' to Velazquez's 'Las Meninas'. Making sense of Lacan's sometimes convoluted style, this highly readable introduction to one of the most frequently quoted thinkers also explores the reasons why human beings make - and look at - art.
Information
Format: Paperback
Pages: 168 pages, 10 integrated bw
Publisher: I.B.Tauris & Co. Ltd.
Publication Date: 01/07/2008
ISBN: 9781845115487
Free Home Delivery
on all orders
Pick up orders
from local bookshops
Reviews
Showing 1 - 1 of 1 reviews.
Levine's infectious enthusiasm--he's very aware that he's addressing art teachers and art students, and that he has some persuading to do--goes along with a lucid, unpretentious style. At the same time, there's a lot of rigour here: I've never seen anyone take on exposition of Lacan's diagrams with more clarity. The book is good to read in conjunction with Slavoj Zizek's 'How To Read Lacan', itself Zizek in surprisingly non-show-off mode. Both books get a lot into a compact space. Highly recommended.
Also in the Contemporary Thinkers Reframed series | View all