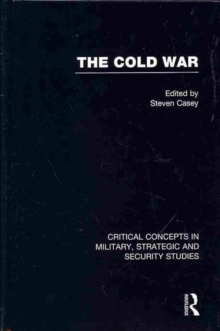 Description
SPECIAL INTRODUCTORY PRICE!(Valid until 3 months after publication)The Cold War dominated international politics between 1945 and 1990, when the two superpowers, the United States and Soviet Union, vied for supremacy.
Their clash profoundly influenced the main trends of the time, including economic development, technological change, and decolonization.
It divided Europe, with the fault line running through Germany.
Although it never erupted into a major superpower conflagration, it was a vicious struggle that was often fought through proxies in the Third World, periodically flared into searing `limited' conflicts in Korea, Vietnam, and Afghanistan, and occasionally produced the most dangerous international crises, particularly over Berlin and Cuba, which brought the world to the brink of nuclear war. This new Routledge title is the first reference work authoritatively to draw together all the major works on this pivotal event.
The first volume explores how historians and political scientists have approached the Cold War, from the early debates between those who sought to blame one of the two superpowers for starting it, to the findings in the 1990s that were based on newly available sources from the former communist bloc.
The volume also makes sense of more recent efforts to examine its global, transnational, and cultural dynamics.
The next three volumes are arranged chronologically, dealing in turn with the origins of the Cold War, 1945-53; the oscillating period of crisis and detente between 1953 and 1975; and the end of the Cold War, 1975-90.
These three volumes collect a compelling mixture of classic and cutting-edge works.
They gathered scholarship explores the story from above and below-from the perspective not just of Washington, Moscow, and Beijing, but also of the smaller players who sought to manipulate the superpowers for their own ends. The tightly focused organization of this collection will allow scholars quickly and easily to access both established and up-to-date assessments of the Cold War, and will also make for irresistible browsing.
With a comprehensive introduction, providing essential background information and relating the various pieces to each other, Cold War Studies is destined to be an indispensable resource for research and study.
Information
Format: Hardback
Pages: 1680 pages
Publisher: Taylor & Francis Ltd
Publication Date: 25/06/2013
Category: General & world history
ISBN: 9780415660976
Free Home Delivery
on all orders
Pick up orders
from local bookshops