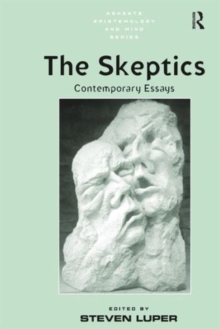 The Skeptics : Contemporary Essays
Hardback
Description
The Skeptics is a new anthology of work by internationally renowned philosophers who present cutting-edge research into the problem of skepticism.
An introductory essay by the editor outlines current thought and introduces the key themes in the ensuing chapters.
Two seminal essays are reprinted amongst the many contributions published here for the first time: Hilary Putnam's Brains in Vats, and David Lewis' Elusive Knowledge .
The Skeptics discusses a range of approaches to knowledge, including coherentism, relativism, contextualism, and externalism, and explores different forms of skepticism, including regress or Pyrrhonian skepticism, indiscernability or Cartesian skepticism, and 'philosophical' skepticism. An extensive bibliography is included, offering a guide to further reading. Presented throughout in an accessible style, this book will prove particularly useful for students, researchers and general readers of philosophy who are interested in epistemology and related areas.
Information
Format: Hardback
Pages: 320 pages
Publisher: Taylor & Francis Ltd
Publication Date: 21/05/2003
ISBN: 9780754614210
Also in the Ashgate Epistemology and Mind Series series | View all