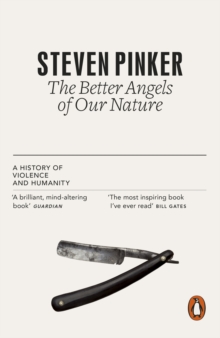 The Better Angels of Our Nature : A History of Violence and Humanity
Paperback
Description
'The most inspiring book I've ever read' Bill Gates, 2017'A brilliant, mind-altering book ...
Everyone should read this astonishing book' Guardian'Will change the way you see the world' Daily MailShortlisted for the Samuel Johnson Prize 2012Wasn't the twentieth century the most violent in history?
In his extraordinary, epic book Steven Pinker shows us that this is wrong, telling the story of humanity in a completely new and unfamiliar way. From why cities make us safer to how books bring about peace, Pinker weaves together history, philosophy and science to examine why we are less likely to die at another's hand than ever before, how it happened and what it tells us about our very natures. 'May prove to be one of the great books of our time ... he writes like an angel' Economist'Masterly, a supremely important book ...
For anyone interested in human nature, it is engrossing' The New York Times 'Marvellous ... riveting and myth-destroying' New Statesman'A marvellous synthesis of science, history and storytelling, written in Pinker's distinctively entertaining and clear personal style ...
I was astonished by the extent to which violence has declined in every shape, form and scale' Financial Times'An outstandingly fruitful read, with fascinating nuggets on almost every page' Sunday Times, Books of the Year
Information
Format: Paperback
Pages: 1056 pages
Publisher: Penguin Books Ltd
Publication Date: 01/10/2012
Category: Social & cultural history
ISBN: 9780141034645
Free Home Delivery
on all orders
Pick up orders
from local bookshops
Reviews
Showing 1 - 1 of 1 reviews.
Review by mbmackay
27/08/2015
This is a mighty book about a very interesting and surprising piece of information - the decline of violence in almost all forms across most societies in the world.Pinker piles up the data from an amazing range of sources until even the most sceptical reader must be convinced - levels of violence really have fallen, and to a quite amazing degree.Then Pinker tries to go through causes and contributory factors. And there are many. The first is the role of an effective state in its "monopoly of violence". As Locke stressed in the Leviathan, man not living in an organised state lives in a state of war. Then there are many others to follow - a general "civilising process"; the enlightenment, the growth in empathy that flowed from the widespread consumption of fiction made possible by the printing process and the growth in literacy levels are key factors.I think there is a shorter book in here, but that is not Pinker's style. And with such a great story to tell, it is hard to criticise.Read October 2014.