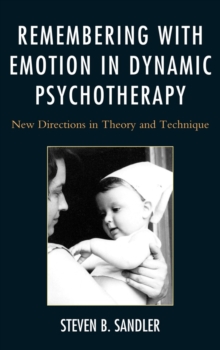 Remembering with Emotion in Dynamic Psychotherapy : New Directions in Theory and Technique
Hardback
Description
This book takes a new look at dynamic psychotherapy, from its most basic theory to the furthest limits of its capabilities.
It invites the reader to re-examine a few of the most basic concepts underlying the practice of psychotherapy.
What is emotion? What is a defense mechanism? It begins with emotion theory, an area of academic study that has traditionally been neglected in psychotherapy training programs.
Throughout the book, it is argued that the patient's experience of emotion is critical for a successful outcome in therapy, and that the therapist's understanding of emotion will provide a solid theoretical foundation for practice.
Attachment theory is also used extensively throughout the book.
Case examples offer interventions that are designed to translate the theory into practical applications.
In the middle chapters of the book, these basic ideas (emotion theory and attachment theory) are applied in an extended case example, using ample segments of verbatim dialogue. Memory theory is used to explain some of the treatment failures in dynamic psychotherapy.
Memory theory can lead to a revised approach that provides more durable outcomes. Dynamic psychotherapy has largely been a therapy of bad memories, therefore, a systematic approach to focusing on positive memories of early attachment experiences is outlined.
We must not only help the patient to face negative memories of his past; we must also help revive and strengthen positive memories until they have "trace dominance" over negative ones. Finally, the possibility that dynamic psychotherapy can lead to spiritual growth is explored.
Early parent-child experiences of oneness can serve as the developmental precursors of the spiritual experience.
Some of the child development literature, including Mahler's notion of "symbiosis" is reviewed.
Some preliminary work with patients is presented, in which they are invited to broaden their new emotional connection with a parent (and others) until it leads to a greater sense of spiritual connection and o
Information
Format: Hardback
Pages: 238 pages
Publisher: Jason Aronson Inc. Publishers
Publication Date: 10/06/2011
Category: Psychotherapy
ISBN: 9780765708274
Free Home Delivery
on all orders
Pick up orders
from local bookshops