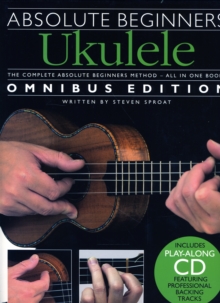 Absolute Beginners Ukulele - Omnibus Edition
Paperback / softback
Description
Step-by-step pictures take you from first day exercises to playing along with a backing track.
Absolute Beginners has been designed to tell you everything you need to know from the very first time you play your ukulele.
In this book you get: A look-and-learn course that uses clear pictures instead of long explanations; Practical advice and tips covering everything you need to know to get you playing fast; CD audio tracks to show you how things should sound, plus full-length accompaniment tracks to play along with.
Simply everything you need is included in this owner's manual approach to your ukulele that makes learning easier than ever before.
Information
Format: Paperback / softback
Pages: 80 pages, illustrations
Publisher: Hal Leonard Europe Limited
Publication Date: 12/10/2009
Category: Songbooks
ISBN: 9781849382755