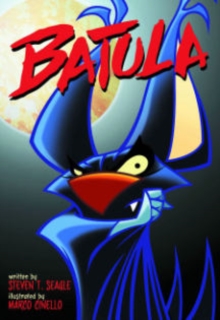 Description
Man of Action Studioes - creators of the international hit Ben 10- return with an all-new big book for little readers!
Livingston is a peaceful fruit bat whose life changes when he is bitten by avampire and transformed into a vampire bat!
As Batula - an avengingcreature of the night - Livingston develops a taste for adventure and aneed to prove that no matter what he looks like on the outside, he's still thesame bat on the inside.
A full-color story book by Frankie Stein creators Seagle &Cinello.
Information
Format: Hardback
Pages: 48 pages
Publisher: Image Comics
Publication Date: 07/08/2012
Category: Comics and Graphic Novels
ISBN: 9781607065722