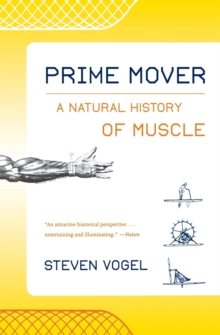 Prime Mover : A Natural History of Muscle
Paperback / softback
Description
Whether we blink an eye, lift a finger, throw a spear or a ball, walk, run, or merely breathe, we are using muscle.
Although muscles differ little in appearance and performance across the animal kingdom, they accomplish tasks as diverse as making flies fly, rattlesnakes rattle, and squid shoot their tentacles. Our everyday activities turn on the performance of nature's main engine: we may breathe harder going uphill, but we put more strain on our muscles walking downhill.
Those of us who are right-handed can tighten screws and jar lids more forcibly than we can loosen them.
Here we're treated to the story of how form and performance make these things happen-how nature does her work. Steven Vogel is a leader in the great new field of bioengineering, which is rapidly explaining the beauty and efficiency of nature.
His talents as both scientist and writer shine in this masterful narrative of biological ingenuity, as he relates the story-and science-of nature's greatest engine.
Information
Format: Paperback / softback
Pages: 384 pages
Publisher: WW Norton & Co
Publication Date: 17/08/2003
Category: Popular science
ISBN: 9780393324631
Free Home Delivery
on all orders
Pick up orders
from local bookshops