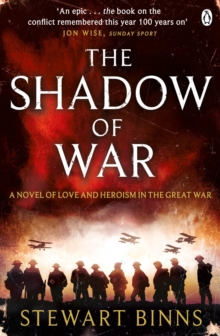 The Shadow of War : The Great War Series Book 1
Paperback
Description
The Shadow of War is the first novel in Stewart Binns's new series which will see a book release for each year of the First World War. June 1914. The beginning of another long, prosperous summer for Britain.
But beneath the clear skies, all is not as it seem - as the chill wind of social discontent swirls around this sceptred isle. Shots ring out in a distant European land - the assassination of a foreign aristocrat.
From that moment the entire world is propelled into a conflict unlike any seen before. This is the story of five British communities, their circumstances very different, but who will all share in the tragedy that is to come.
All that they have known will be changed for ever by the catastrophic events of the Great War. This is a story of love and comradeship, of hatred and tragedy - this is the story of the Great War. The Shadow of War, the first novel in The Great War series from Stewart Binns, is a thrilling read and perfect for those who enjoy the writing of Conn Iggulden and Bernard Cornwell. Praise for Stewart Binns: 'Anyone with even a vague interest in Britain and the Great War should read Shadow of War' Celia Sandys, granddaughter of Winston Churchill 'A fascinating mix of fact, legend and fiction . . . this is storytelling at its best' Daily Mail 'Stewart Binns has produced a real page-turner, a truly stunning adventure story' Alastair Campbell 'Once again Stewart Binns has managed to create something unique, entertaining and eye-opening' Parmenion Books 'Unarguably heart-warming... will leave any reader with a sense of British pride' Goodreads 'Truly a book that educates while entertaining, a talent of this best-selling author' Historical Novel Review Stewart Binns began his professional life as an academic.
He then pursued several adventures, including a stint at the BBC, before settling into a career as a schoolteacher, specializing in history.
Later in life a lucky break took him back to the BBC, which was gthe beginning of a successful career in television.
He has won a BAFTA, a Grierson, an RTS and a Peabody for his documentaries.
Stewart's passion is English history especially its origins and folklore.
His previous Making of England series: Crusade, Conquest, Anarchy and Lionheart, were published to great acclaim
Information
Format: Paperback
Pages: 560 pages
Publisher: Penguin Books Ltd
Publication Date: 27/08/2014
Category: Historical fiction
ISBN: 9781405915175
Free Home Delivery
on all orders
Pick up orders
from local bookshops
Also in the The Great War series