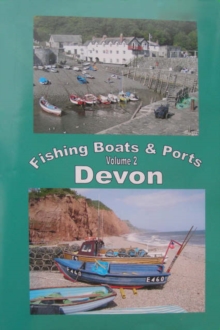 The Fishing Boats and Ports of Devon : An Alternative Way to Explore Devon v. 2
Spiral bound
Description
Foreword by George Hogg The Fishing Boats and Ports of both Devon & Cornwall started off in a very different way from most books.
The original idea was to produce an easy identification guide to the fishing vessels which Stewart and his fellow watchkeepers at the National Coast Watch Institution saw passing their lookout station at Rame Head.
Stewart noticed that when skippers called up on the radio to identify their boats they invariably gave only the names of their vessels, which are not easy to check, especially when the sea is rough, so Stewart made up a display book of photos that he took of the local vessels.
This proved so successful that he produced other displays for the volunteers manning the lookouts in other parts of both Devon and Cornwall. Stewart and his wife travelled many hundreds of miles to visit all the fishing ports in Devon and Cornwall to photograph all the fishing craft in the region.
These trips led his wife Liz to write the general introduction to the ports which appears at the beginning of the book.
This section will be a very great help to many visitors as it will enable them to see beyond the gulls and brightly coloured boats which fill our ports. An excellent section on fishing methods follows which will enable readers to understand how boats are rigged to catch different types of fish. All readers will find much to interest them in the main body of these books which contain some 1450 up to date photographs of the region's fishing craft carefully arranged in the order of the ports from which they fish.
These photographs are not only an "I Spy" guide, but when taken as a whole, provide the historian with an unique overview of the fishing activity in Devon and Cornwall in 2006.
The inclusion of dates on all the photographs is vital as individual boats often change their ports and appearance.
The comprehensive index at the end of the books provides a very valuable check list for all the users of these books. I have no doubt that this book which has been produced as the result of one man's idea to produce a recognition aid for the watchkeepers at Rame Head will be read and enjoyed by many people from all walks of life.
I am most grateful to Stewart for writing it and providing me, as a historian, with an unique and most valuable insight into the fishing activity in the region. 11 September 2006
Information
Format: Spiral bound
Pages: 174 pages, 636 photos, 25 tables, 9 diagrams
Publisher: Channel View Publishing Plymouth
Publication Date: 01/11/2006
ISBN: 9780955402319
Free Home Delivery
on all orders
Pick up orders
from local bookshops
Also by Stewart Lenton