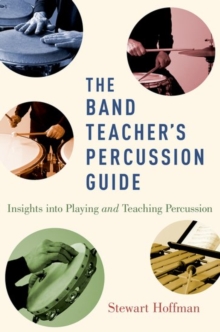 The Band Teacher's Percussion Guide : Insights into Playing and Teaching Percussion
Paperback / softback
Description
The Band Teacher's Percussion Guide: Insights into Playing and Teaching Percussion is an essential practical resource for instrumental music teachers and band directors.
Author Stewart Hoffman, a Juilliard-trained percussionist, performer, private instructor, and former classroom teacher, offers comprehensive yet accessible and clearly written handbook to help set teachers and students alike firmly on the road to classroom success.
In this book, he offers athorough foundation in snare drum, timpani, keyboard percussion, drum set, and auxiliary and Latin percussion techniques.
More than this, he provides practical advice on curriculum and methodology, packing page after page with teaching tips developed through the decades of experience. For educators and band directors who want to learn more about percussion instruments and playing techniques, refine their percussion-teaching skills, or set the classroom stage for a more effective and rewarding teaching experience, The Band Teacher's Percussion Guide: Insights into Playing and Teaching Percussion will be a valued resource for discovering:-keys to effective and relevant evaluation-how to plan a percussion program, organize a band room and select percussionists-lists of recommended instruments and mallets, and guidelines for instrument maintenance and repair-"lifts and levels", a system that leads students to greater control and a more relaxed snare drum technique dozens of practical exercises for the development of techniques on all the main and accessory percussion instruments-easily referenced lists summarizing important points to focus on when practicing-guidelines for teaching jazz, Latin and rock drumset-numerous suggestions and tips to help teachers bring out the best in their students' playing
Information
Format: Paperback / softback
Pages: 256 pages, 33 photographs and nearly 200 exercises and examples
Publisher: Oxford University Press Inc
Publication Date: 08/06/2017
ISBN: 9780190461690