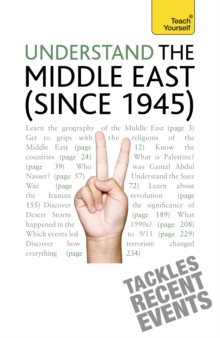 Understand the Middle East (since 1945): Teach Yourself
Paperback / softback
Description
Is this the right book for me?An essential guide to one of the world's most turbulent regionsUnderstand the Middle East (since 1945) examines the origins and development of the events which have dominated the headlines for the last six decades.
Covering everything from religion and politics in the aftermath of the Second World War to the Israeli-Palestinian conflict, war in Iraq and the terrorism of the present day it will change the way you think about the region. Understand the Middle East (since 1945) includes: Chapter 1: The crossroads of the worldWhat is the Middle East?The geography of the Middle EastPeoples and SocietiesReligionChapter 2: States and mandates: Middle Eastern politics to the end of the Second World WarOttoman collapseThree agreementsThe Arabian peninsulaIranEgyptIraqSyria, Lebanon and TransjordanChapter 3: The promised landPalestineZionThe British mandateThe state of IsraelChapter 4: Gamal Abdul NasserThe First Arab-Israeli warA region of instabilityNasserThe Suez crisisChapter 5: War to warThe Suez warThe consequences of SuezBetween the warsThe PalestiniansThe path to warChapter 6: Divisions and developments 1967-73The Six Day WarThe consequences of warEnter Sadat and AssadPalestine militantSadat's patience runs outThe Fourth Arab-Israeli WarThe oil weaponChapter 7: Lebanon bleedsUneasy peaceCivil warIsraeli interventionIsraeli invasionTowards settlement Chapter 8: Camp David'We can negotiate'Shuttle diplomacyA moment in historyCamp DavidChapter 9: Revolution and warKing of KingsThe Iranian RevolutionThe rise of Saddam HusseinChapter 10: IntifadaFruitless negotiationThe PalestiniansIntifadaThe state of PalestineHopes of settlementChapter 11: Desert StormSaddam bankruptOperation Desert ShieldOperation Desert StormRepercussions and revoltsChapter 12: The 1990s: Searching for settlementInstability, religion and powerThe Declaration of PrinciplesStruggling for peaceA broader peaceThe peace process crumblesThe Second IntifadaChapter 13: Decision time: 9/11 and the Arab worldThe Middle East in 20019/11 and America's War on TerrorA new millennium: 1.
Egypt, Jordan, Lebanon and SyriaA new millennium: 2.
Saudi Arabia and the GulfChapter 14: Tragedy and intransigence: Iraq and Iran in the new millenniumInsurgency and democracyTowards settlementTwenty-first-century IranChapter 15: Israel-Palestine in the new centuryNew century, old problemsPeace plans and disengagementOlmert, Abbas and HamasMore jaw, more war. Learn effortlessly with a new easy-to-read page design and interactive features: Not got much time?One, five and ten-minute introductions to key principles to get you started. Author insightsLots of instant help with common problems and quick tips for success, based on the author's many years of experience. Test yourselfTests in the book and online to keep track of your progress. Extend your knowledgeExtra online articles to give you a richer understanding of the subject. Five things to rememberQuick refreshers to help you remember the key facts. Try thisInnovative exercises illustrate what you've learnt and how to use it.
Information
Format: Paperback / softback
Pages: 320 pages, 10 b/w line drawings
Publisher: Hodder & Stoughton General Division
Publication Date: 27/08/2010
Category: Middle Eastern history
ISBN: 9781444105216
Free Home Delivery
on all orders
Pick up orders
from local bookshops
Also in the TY History series