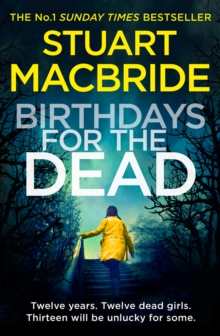 Birthdays for the Dead
Paperback
Description
The Number One bestselling crime thriller from the award-winning Stuart MacBride.
A bloody, brilliant and brutal story of murder, kidnap and revenge.Detective Constable Ash Henderson has a dark secret...Five years ago his daughter, Rebecca, went missing on the eve of her thirteenth birthday.
A year later the first card arrived: home-made, with a Polaroid picture stuck to the front - Rebecca, strapped to a chair, gagged and terrified.
Every year another card: each one worse than the last.The tabloids call him `The Birthday Boy'.
He's been snatching girls for twelve years, always just before their thirteenth birthday, killing them slowly, then torturing their families with his homemade cards.But Ash hasn't told anyone what really happened to Rebecca - they all think she ran away - because if anyone finds out, he'll be taken off the investigation. And he's sacrificed too much to give up before his daughter's murderer gets what he deserves...
Information
Format: Paperback
Pages: 512 pages
Publisher: HarperCollins Publishers
Publication Date: 30/08/2012
Category: Crime & mystery
ISBN: 9780007344208
Free Home Delivery
on all orders
Pick up orders
from local bookshops
Reviews
Showing 1 - 2 of 2 reviews.
Review by Eyejaybee
16/06/2015
What a falling off was there ...An utterly dreadful novel. I found it difficult to believe that the author of the Logan MacRae novels could lose his way so badly as to produce this rubbish.
Review by Twink
16/06/2015
Stuart MacBride is another author whose name I was familiar with, but hadn't sampled yet. Well, that's all changed. I just read Birthdays for the Dead and I am hooked.MacBride grabs you by the throat in the opening prologue and only eases his grip long enough to let you take a breath and then the pressure is back on. Non-stop.The day's mail includes a birthday card for Detective Constable Ash Henderson's daughter Rebecca - she would have been eighteen. Rebecca went missing days before her thirteenth birthday and it's assumed she ran away. But, Ash knows differently. She was a victim of The Birthday Boy - a sadistic killer who sends parents horrific photos of their dead daughters in a yearly birthday card. And Ash has just received his latest. The Oldcastle police have been chasing this maniac for over eight years and they may have just caught a break - a body has been found. Ash has withheld his cards and daughter's death from everyone as he doesn't want to be taken off the case. But, it's taken a toll - he's divorced, lives in a dive, is dangerously in debt to the local mob, eats painkillers constantly and is a little too quick with his fists. He's a train wreck of a man - and you can't help but hoping he comes out on top.Whew. Where to start? It took me the first few chapters to catch on to MacBride's style - fast and furious, but also with some funny bits. I know, after what I just described, funny doesn't seem possible. But Ash is paired up with Alice, a very 'different' psychologist, who has her own set of issues. The dialogue between the two is quite witty. On the flip side, Mrs. Kerrigan scared the bejesus out of me. The action truly never stops, the tension never lets up and I was unable to predict where the plot was headed next. Or the ending.Gentle readers be warned - Birthdays for the Dead is dark, gritty and violent. But, boy oh boy crime fans - it's oh so good! This was my first MacBride, but definitely won't be my last. Read an excerpt of Birthdays for the Dead. I was glad that this was a stand alone book. (But I would like to see more of this character) as MacBride also writes a crime series featuring Logan McRae that I want to start from the beginning.