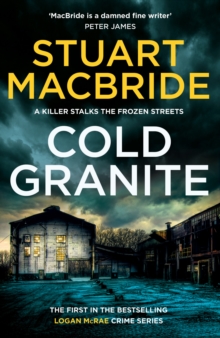 Description
Stuart MacBride's Number One bestselling crime series opens with this award-winning debut.
DS Logan McRae and the police in Aberdeen hunt a child killer who stalks the frozen streets.Winter in Aberdeen: murder, mayhem and terrible weather...It's DS Logan McRae's first day back on the job after a year off on the sick, and it couldn't get much worse.
Three-year-old David Reid's body is discovered in a ditch: strangled, mutilated and a long time dead. And he's only the first. There's a serial killer stalking the Granite City and the local media are baying for blood.Soon the dead are piling up in the morgue almost as fast as the snow on the streets, and Logan knows time is running out.
More children are going missing. More are going to die. And if Logan isn't careful, he could end up joining them.
Information
Format: Paperback
Pages: 608 pages
Publisher: HarperCollins Publishers
Publication Date: 27/10/2011
Category: Crime & mystery
ISBN: 9780007419449
Other Formats
EPUB from £2.99
CD-Audio from £16.35
Free Home Delivery
on all orders
Pick up orders
from local bookshops
Reviews
Showing 1 - 5 of 5 reviews.
Review by sogamonk
16/06/2015
First on the Logan McRae series, good police procedural. Enjoyed it.
Review by VickiTyley
16/06/2015
Gritty Scottish police procedural. While I like the tone of the book and MacBride's writing style, I'm not at all comfortable with the graphic nature of what a sexual sadist is doing to children under five. Not sure that I want to read a story where poor wee bairns have their genitals sliced off and objects inserted where they shouldn't be. Different matter if the victims were paedophiles.It hasn't put me off reading more of MacBride's work, though.
Review by RuthieD
16/06/2015
What a page turner. I absolutely relished this. I first 'met ' Logan half way through the series and I enjoyed it, but parts didn't make sense. It's definitely a series you need to start at the beginning to understand fully. Logan is just so likeable , though he does have a lot of slightly unbelievable flashes of brilliance. Insch was my surprise favourite character....my fellow sugar/sweet holic. I'd forgotten about DI Steel. It is gritty, and realistic sounding. He's a very talented author. The victims are so ...pathetic in the proper sense and the outrage the police feel at the crimes is palpable. Went and bought Dying Light before completion.
Review by Xleptodactylous
16/06/2015
DS Logan McRae is back at Grampian Police HQ in the cold of Aberdeen after a year on the sick from being stabbed repeatedly in the stomach and it's not the best start. His first day back they find a dead young boy, with only more to come. Not only that, but the Media are baying for blood and they want Logan to co-operate; but they're not playing fair. It's a race against time before any more dead children show up.<br/><br/><br/>This was a wonderful début novel. The only other crime thriller writer I have read is Ian Rankin (of course) and I wanted to address this, but didn't want to look to America for one like Cornwell. His writing style is similar to Rankin's in the sense that he couples humour and Human-repartee well with the grim forensic and policing.<br/><br/>Logan McRae is a very likeable character. There's nothing flat about the writing at all, but at times I felt the supporting cast were a bit dull and two-dimensional. For a début novel this is sterling stuff.
Review by eadieburke
27/01/2016
This is the first book of Stuart MacBride's Logan McRae series and it won't be my last. The characters are well developed and the plot has many twists and turns. Although the story was very noir and dark and the language was over the top, I still found the book to be a page turner with lots of suspense. I am now looking forward to reading the 2nd book in the series.
Also in the Logan McRae series | View all