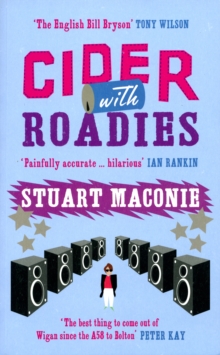 Cider with Roadies
Paperback
Description
Cider with Roadies is the true story of a boy's obsessive relationship with pop.
A life lived through music from Stuart's audience with the Beatles (aged 3); his confessions as a pubescent prog rocker; a youthful gymnastic dalliance with northern soul; the radical effects of punk on his politics, homework and trouser dimensions; playing in crap bands and failing to impress girls; writing for the NME by accident; living the sex, drugs (chiefly lager in a plastic glass) and rock and roll lifestyle; discovering the tawdry truth behind the glamour and knowing when to ditch it all for what really matters. From Stuart's four minutes in a leisure centre with MC Hammer to four days in a small van with Napalm Death it's a life-affirming journey through the land where ordinary life and pop come together to make music.
Information
Format: Paperback
Pages: 320 pages
Publisher: Ebury Publishing
Publication Date: 18/12/2004
Category: Rock & Pop music
ISBN: 9780091897451
Free Home Delivery
on all orders
Pick up orders
from local bookshops
Reviews
Showing 1 - 5 of 6 reviews.
Previous | Next
Review by la_wilk
16/06/2015
If you are willing to believe this man appreciated the Beatles, Northern Soul, punk, Morrisey and god knows what else before anyone else, regardless of whether he was too young to shave or even feed himself, you might like this book.
Review by edwardsgt
16/06/2015
An interesting and well-written autobiography of someone who clearly loves the music business, but doesn't take himself too seriously. Highly recommended for those interested in any way in the music of the 80s and 90s.
Review by ten_floors_up
16/06/2015
A highly entertaining and colourful memoir written with tongue firmly in cheek (apologies for the slightly mixed metaphor).
Review by Eyejaybee
16/06/2015
I have never really come across Stuart Maconie very often - he started writing for the New Musical Express after I stopped reading it regularly, and over the last twenty or thirty years I have very rarely listened to music radio, where he has carved out his own niche. I had seen him a few times in talking head role on music documentaries, and had always found him amusing, and had also noticed that his judgement on whatever artist was being discussed seemed close to my own.Then I read his book, Pies and Prejudice: In Search of the North, which I enjoyed - in this he managed to eulogise many aspects of living in the northern part of England without falling into the easy option of simply slagging off those in the "poncey south". I also appreciated his wry, observant humour.I was, therefore, looking forward to this music-based memoir, though I was also conscious that too often recently I have found myself disappointed after allowing myself high expectations. Happily, that was not the case here. This book is very amusing yet also informative. I think that Maconie is perhaps a couple of years older than I am, and I identified very closely with his own story, and could claim many shared perspectives. He grew up in Wigan, often seen as something as a backwater by people from the south of England, though it should be remembered that the Wigan Casino was voted the world's best nightclub during the Northern Soul era in the late 1970s (and that was up in competition with venues as widely-lauded as New York's Studio 54). I grew up in North Leicestershire which was then (and is now, to be honest) a bit of a musical backwater, too, with Kasabian the only local band to make it big in any worthwhile manner (well, I am NOT going to dwell on Showaddywaddy!), so I could appreciate his feeling that he was sometimes away from the main flow. Both of us encountered bands and artists that would become firm favourites through the medium of John Peel's show.Maconie seemed to have had an early start to his music-listening career. One of his earliest memories was of hearing The Beatles on the radio, and he even went to see the Fab Four while still not more than a toddler when they played a gig in Wigan shortly after their first tour of America in 1964. in fact, they played two gigs - in those days bands generally did two shows each night! That is two more Beatles gigs than Loughborough can claim!I was surprised to read that he had gone through a progressive rock phase early on. I … or, rather, "a friend of mine" … may have dwelt in Yesland or Camelville for a while too, before passing through punk and new wave to a clearer understanding of the multiplicity of rock and roll genres.Maconie writes very engagingly and laconically, and when he pronounces judgement on musicians he does so from an informed perspective. He has been a professional journalist for many years now, and writes with an economy that does not impinge upon his message. I was particularly intrigued to learn that it was Maconie who started the now endemic urban myth that Bob Holness played saxophone on "Baker Street". Holness seemed to take this in good part - I once saw him asked about this in an interview. Staring straight at the camera Bob denied it, adding, with a wry grin, "… but I did play lead guitar on Layla!"All in all this was a very enjoyable read, perhaps of particular interest to those born in the early 1960s.
Review by Helenliz
16/06/2015
I admit to being biased, I love Stuart Maconie. When he moved from radio 2 to 6 music, I pestered my husband for a DB radio, so I could continue to listen to him. And this manages to be him, but in print. Some books you can almost hear them being read - and this is one of them. I love the wry humour, the little jokes, the erudite references and the observational quality of the writing. Never short of a good anecdote this book tells of his encounters in music, from attending a Beetles concert (aged 3) to leaving NME as a assistant editor in the early 90s.It takes in all sorts of music along the way, some if it memorable, others less so. I can't say that I remember a lot of the bands mentioned - he's about 10 years older than me and clearly wasn't a teenage girl in the 80s who worshiped at the shrine of the New Romantics - but then we all make musical choices we come to regret in later years. But even not being fans of the same thing doesn't stop this being highly entertaining. I imagine it might not have the widest appeal of any book, but I thoroughly enjoyed it and had a good giggle at it.