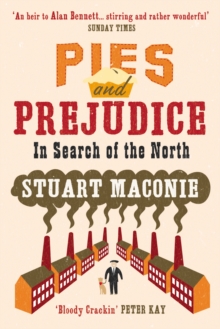 Pies and Prejudice
Paperback
Description
A Northerner in exile, Stuart Maconie goes on a journey in search of the North, attempting to discover where the cliches end and the truth begins.
He travels from Wigan Pier to Blackpool Tower and Newcastle's Bigg Market to the Lake District to find his own Northern Soul, encountering along the way an exotic cast of chippy Scousers, pie-eating woollybacks, topless Geordies, mad-for-it Mancs, Yorkshire nationalists and brothers in southern exile.
The bestselling Pies and Prejudice is a hugely enjoyable journey around the north of England.
Information
Format: Paperback
Pages: 368 pages
Publisher: Ebury Publishing
Publication Date: 01/02/2008
Category: Travel writing
ISBN: 9780091910235
Other Formats
CD-Audio from £13.85
EPUB from £4.99
Free Home Delivery
on all orders
Pick up orders
from local bookshops
Reviews
Showing 1 - 5 of 9 reviews.
Previous | Next
Review by AdonisGuilfoyle
16/06/2015
Hilarious, observant, friendly; Maconie is the Bill Bryson of The North. This is a personal travelogue of a northener in exile, visiting cities from Liverpool and Manchester, to the Lakes and Hadrian's Wall, and gushing with praise over most. It's his honesty and familiarity that I enjoyed most, however - even a generation or two removed from Maconie's experiences, certain traditions (dinner is at midday, and supper is a cup of tea and biscuits in your dressing gown at night) and traits (talking to his parents on the telephone) were instantly recognisable to me. I enjoyed reading, quoting and recommending this book, and it's made me proud to be a northerner!
Review by scottycarp
16/06/2015
I had a chicken tikka pastie from Hampsons, which used to be Parker Bradburns, today. It was delicious and it got me thinking about this book. Stuart Maconie goes on about Greggs pie shops all the way through this book. He is very very wrong about Greggs. Their pies and pasties are nowhere near as tasty as the ones from Hampsons or Greenhalghs. And everytime I buy a pasty from Greggs it is cold. And Hampsons have a bigger choice. And Hampsons have nicer cakes. But it annoys me when you buy a loaf in Hampsons and ask for it to be sliced thick but they can only slice it medium. I want my toast thick but I can't cut it myself, I'm not allowed near knifes anymore. People get hurt and it's not my fault.
Review by wendyrey
16/06/2015
Now that was fun, although the radicalism was perhaps a bit overdone. Well written and funny, Has sent me in search of a food of my childhood - Staffordshire oatcakes - found an online supplier of both fresh oatcakes , which I think are a bit too perishable to trust Royal Mail to get to deepest Argyll in a decent condition , and more usefully oatcake and pikelet (yum) mix.
Review by richardgarside
16/06/2015
Great perception - not good to read at one hit. Better enjoyed for me, if dipped into from time to time. As a Northerner, the book celebrates so many of the special traits which I remember embarassing me when I was young striving to be cosmopoitan, but which delight and amuse now. Questionable musical taste though.
Review by Oreillynsf
16/06/2015
Maconie's affectionate tribute to The North is a great read, even for people like me who are not British and only vaguely know of "the divide" from other books and britcoms. It's the little things that matter in the lives of an ordinary person, and this book celebrates the customs, quirks, and peculiarities of Northerners with a tenderness I liked. Humor meets travelogue meets social history. Whatever bucket you put it in, I bet you'll enjoy it!