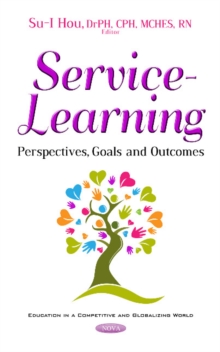 Service Learning : Perspectives, Goals & Outcomes
Paperback / softback
Description
The authors examine samples of experimental learning programs in higher education to better understand the influential drivers of service-learning pedagogy, as well as potential barriers that hinder service-learning adoption in higher education settings.
Service-learning is a structured learning experience that links academic course work and community service, stressing reciprocal learning and reflective practices to address community identified needs, while engaging and developing students citizenship skills and critical thinking for social change.
This book discusses how service-learning projects impact students, faculty, higher education institutions, and service-learning clients through domestic and international experiences.
The research methods demonstrated throughout this text include: survey research, mixed-methods research, literature reviews, quasi-experiments, and case studies.
Chapters within this book evaluate the impact of service-learning projects through learning competency outcome measures or reflection analyses. We believe the empirical data and knowledge provided through this book will advance service-learning research and support the adoption/integration of service-learning opportunities in higher education settings.
Moreover, we hope that future research will expand upon lessons provided in this book, to continue to build the service-learning knowledge base for faculty, students and institutions.
Part I of this book provides a brief literature review of overcoming service-learning barriers in higher education, including discussion of online service-learning challenges and strategies. To offer an interdependent analysis of the service-learning approach, Parts II, III, and IV include case studies grouped by what may be considered the three primary stakeholder groups: Faculty, Students and Institutions.
Part II: Faulty will provide detailed analyses of faculty, both tenure-track and off-tenure track, encountered issues and considerations regarding the integration of service-learning projects with the course curriculum.
Part III: Students will discuss learning, reflections, and personal development outcomes of students who participate in service-learning opportunities.
Part IV: Institutions will examine the partnerships between the higher education program and stakeholder communities, both in the domestic and international context.
Chapter authors include professors from public, private, domestic and international universities with experience in student learning and experimental learning.
These professors represent disciplines in public health, communication science and disorders, psychology, community engagement, and education and have incorporated service learning in their teaching and instruction.
It is with sincerity that we express our appreciation to these professionals for their passion and commitment to advance our knowledge base of service-learning pedagogy and research in higher education.
Information
Format: Paperback / softback
Pages: 114 pages
Publisher: Nova Science Publishers Inc
Publication Date: 01/06/2017
Category: Society & social sciences
ISBN: 9781536108798
Free Home Delivery
on all orders
Pick up orders
from local bookshops