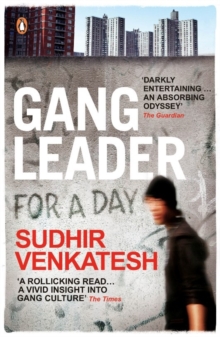 Gang Leader For A Day
Paperback
Description
Sudhir Venkatesh the young sociologist who became famous in Freakonomics (Why do drug dealers still live with their moms?) describes his time living with the gangs on the Southside of Chicago and answers another question: what's it like to live in hell?In the Robert Taylor Homes projects on Chicago's South Side, Sudhir befriends J.T., a gang leader for the Black Kings.
As he slowly gains J.T.'s trust, one day, in order to convince Sudhir of his own CEO-like qualities, J.T. makes him leader of the gang... Why does J.T. make his henchmen, the 'shorties', stay in school? What is the difference between a 'regular' hustler and a 'hype' - and is Peanut telling him the truth about which she is? And, when the FBI finally starts cracking down on the Black Kings, is it time to get out - or is it too late?
Information
Format: Paperback
Pages: 320 pages
Publisher: Penguin Books Ltd
Publication Date: 01/02/2009
Category: Popular culture
ISBN: 9780141030913
Free Home Delivery
on all orders
Pick up orders
from local bookshops
Reviews
Showing 1 - 2 of 2 reviews.
Review by Opinionated
16/06/2015
A very interesting piece of urban sociology / anthropology (although ignore the "Rogue Sociologist" nonsense in the title) , which brings to life a hidden, closed community in the Chicago projects, largely ignored by the outside world and run on a basis of fear, petty corruption and intimidation by the local gang, local police, and local power brokers. The comparison with "Gomorrah" for any who have read that, is striking. Reading this there are a couple of points that struck me; firstly in a distorted way in the absence of any other form of authority its not surprising that the gangs fill the vacuum and act as some form of community organisation even if the principle source of income is in selling crack to its own community. Secondly how poor communities will always prey on each other. Thirdly how all of this could be solved or at least made better, by a sensible drug policy (rather than head in sand prohibition) that took away the gang's profit motive - for, as stated in the book, revenues from prostitution, extortion and other illegal activities are relatively small beer and not enough to attract many to "thug life". And fourthly, how the richest country in the world can effectively abandon some of its most vulnerable citizens to their fate But this is highly recommended as a light on what for me anyway was a dark and hidden world
Review by jcbrunner
16/06/2015
Venkatesh became famous as one of the meaty parts in the shallow Freakonomics book. A researcher who in the classic mold of Marie Jahoda or, closer, the old Chicago school of sociology leaves the ivory tower and its object-subject abstraction to observe in situ and participate in the social life of his subjects. Venkatesh spent many years exploring the strange world of a gang and the social net of a Chicago housing project. In this popular account he takes the readers along on a journey through a poor housing project, a world of pimps and prostitutes, hustlers and handymen, shop owners and landlords.What is both surprising and, on reflection, isn't. is how the absence of governmental control is filled by overlapping sets of private rulers. This both traps the oppressed, mostly women, and offers them limited protection. For a certain cut, the pimps reduce the risk of beatings of their prostitutes from a monthly to a bi-annual event. Humans are able to adapt and survive even in the most unkind surroundings. A fact the higher-ups exploit to the maximum. It is puzzling how much the black world of the ghettos resembles the white corporate world with fat cat CEOs and subsistence minimum wage workers. At the top, both world's tend to blend, as Venkatesh and the viewers of The Wire discovered.Another shocking element is the widespread culture of corruption. While Venkatesh's account sounds too naive, the unchecked misuse of public funds is glaring and frustrating. Overall, a highly enjoyable and informative read. If you haven't seen it, run and watch The Wire or read the mother of all social observation studies, Marienthal: the sociography of an unemployed community.