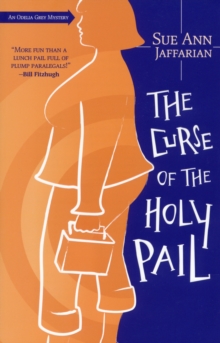 The Curse of the Holy Pail : An Odelia Grey Mystery
Paperback / softback
Description
Is the "Holy Pail" cursed? Every owner of the vintage Chappy Wheeler lunchbox--a prototype based on the 1940s TV western--has died. And now Sterling Price, business tycoon and a client of Odelia Grey's law firm, has been fatally poisoned.
Is it a coincidence that Price's one-of-a-kind lunch pail--worth over thirty grand--has disappeared at the same time?
Treading cautiously since a recent run-in with a bullet, Odelia takes small bites of this juicy, calorie-free mystery--and is soon ravenous for more!
Her research reveals a sixty-year-old unsolved murder and Price's gold-digging ex-fianc e with two married men wrapped around her breasts...uh, finger.
Mix in a surprise marriage proposal that sends an uncertain Odelia into chocolate sedation, and you've got an unruly recipe for delicious disaster. Praise: "I'd like to spend more time with Sue Ann Jaffarian's Odelia."--The New York Times "Plus-size paralegal Odelia Grey gets more than she bargained for when she accepts an unusual gift from a favorite client...Jaffarian plays the formula with finesse, keeping love problems firmly in the background while giving her heroine room to use her ample wit and grit."--Kirkus Reviews "Jaffarian offers the perfectly flawed alternative for readers sick and tired of picture-perfect characters." --Booklist "Odelia Grey is a keeper."--Library Journal "Jaffarian's writing is sharp and sassy--like her protagonist--and she knows how to keep the suspense high."--Mystery Scene "I have enjoyed both books in the series.
Odelia is a resourceful woman, and I didn't chafe at her amateur sleuthing.
The book has an inspired cookie recipe."--Deadly Pleasures "Even better than her first...a major hoot!"--Thomas B.
Sawyer, bestselling author of TheSixteenth Man, former head writer/producer of Murder, She Wrote "Odelia Gray is a wonderful addition to the mystery genre, a smart, funny, engaging plus-size heroine who takes readers on a plus-size ride.
You root for her, laugh with her and cheer at her ultimate triumph.
If I were in trouble, I'd want Odelia on my side."--Denise Hamilton, Edgar and Willa Cather Award-finalist and national bestselling author of Prisoner of Memory "More fun than a lunch pail full of plump paralegals, The Curse of the Holy Pail is a tale as bouncy as its bodacious protagonist."--Bill Fitzhugh, author of Highway 61 and Resurfaced "With a legendary curse, a possibly murderous little person, ruthless heirs, [and] charismatic thugs... a lively caper that will keep you guessing right till the end."--Kris Neri, award-winning author of the Tracy Eaton mysteries "A funny read, with off the wall characters, a twisty plot and not a surplus calorie to be had.
Recommended."--Bookbitch.com "Well written and nicely paced, this is a good beach or airplane read."--Cycling.Finial.com "Big women of the world, hang on to your hats, you're going to love Sue Ann Jaffarian's plus-sized Odelia Grey, amateur sleuth.
This is funny, sexy, romantic, you name it, all wrapped up in one great mystery."--Cozylibrary.com
Information
Format: Paperback / softback
Pages: 360 pages
Publisher: Llewellyn Publications,U.S.
Publication Date: 26/04/2007
Category: Crime & mystery
ISBN: 9780738708645
Free Home Delivery
on all orders
Pick up orders
from local bookshops