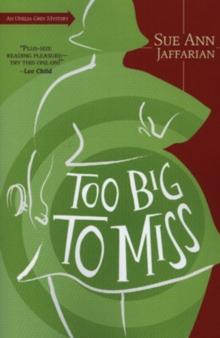 Too Big to Miss : An Odelia Grey Mystery
Paperback / softback
Description
Too big to miss--that's Odelia Grey. A never-married, middle-aged, plus-sized woman who makes no excuses for her weight, she's not super woman just a mere mortal standing on the precipice of menopause, trying to cruise in an ill-fitting bra.
She struggles with her relationships, her crazy family, and her crazier boss. And then there's her knack for being in close proximity to dead people... When her close friend Sophie London commits suicide in front of an online web-cam by putting a gun in her mouth and pulling the trigger, Odelia's life is changed forever.
Sophie, a plus-sized activist and inspiration to imperfect women, is the last person anyone would ever have expected to end her own life.
Suspecting foul play, Odelia is determined to get to the bottom of her friend's death.
Odelia's search for the truth takes her from southern California strip malls to the world of live web-cam porn to the ritzy enclave of Corona del Mar. Praise: "I'd like to spend more time with Sue Ann Jaffarian's Odelia, a plus-size fat-liberationist with a handsome wheelchair-bound lover.
Odelia...does not hesitate to give justice a small, well-plotted forward shove at every opportunity."--The New York Times "[Odelia] is an intriguing character, a true counter against stereotype, who demonstrates that life can be good, even in a world where thin is always in."--Booklist "Balancing her professional skills as a paralegal with her self-doubt as a sleuth, Odelia is one of the most believable amateur detectives in recent fiction.
Beautifully plotted and carefully crafted, this is a marvelous start to an exciting new series.
Strongly recommended."--Library Journal "With a cast of diverse characters, an intriguing plot, and a credible heroine, this is an enjoyable read."--Mystery Scene "Plus-size reading pleasure--try this one on!"--Lee Child, New York Times bestselling author "Sue Ann Jaffarian does a masterful job in creating the character of a plus-size woman, with different shades of angst, humor, verve, and sensualness.
Once you get to know Odelia Grey, you'll love her. I know I do."-- Naomi Hirahara, Edgar-winning author of Snakeskin Shamisen "Too Big To Miss is too good to miss, a fun-filled romp that introduces the delightful Odelia Grey and leaves you anxious for more of her.
Odelia's definitely worth her weight in reading enjoyment."--Robert S.
Levinson, author of Ask a Dead Man, Hot Paint, and The Elvis and Marilyn Affair "A plus-sized thumbs up.
Jaffarian's a new sharpshooter in crime fiction, so set your sights on this Odelia Grey mystery for a tightly coiled intrigue that targets a sexy shocker."--Brian M.
Wiprud, award-winning author of Pipsqueak and Stuffed "On one level, Too Big To Miss is a classic, fast-paced mystery; on another, it's a passport into a world we either inhabit or live next-door to, but rarely see in popular fiction.
Sue Ann Jaffarian breaks rules and breaks ground, with humor, insight and compassion."--Harley Jane Kozak, Agatha, Anthony and Macavity Award winning author of Dating Dead Men and Dating is Murder
Information
Format: Paperback / softback
Pages: 336 pages
Publisher: Llewellyn Publications,U.S.
Publication Date: 31/03/2006
ISBN: 9780738708638
Free Home Delivery
on all orders
Pick up orders
from local bookshops