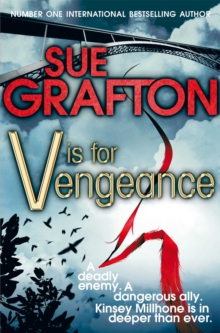 V is for Vengeance
Paperback
Description
Las Vegas, 1986. A young college graduate is murdered when he is unable to pay back a loan funded by notorious criminal Lorenzo Dante.
Two years later private investigator Kinsey Millhone finds herself assisting to apprehend a shoplifter - Audrey Vance - in a shopping centre.
Events take a much darker turn when Audrey's body is discovered beneath the Cold Spring Bridge, a local suicide spot.
Unable to believe she took her own life, Audrey's fiance Marvin Striker hires Kinsey to investigate.
It soon emerges that the shoplifter had become caught up in a much larger operation.
Meanwhile Lorenzo Dante has begun to grow weary of his life in organised crime and frustrated with his violent and impulsive younger brother Cappi.
While the police net begins to close in on him, Dante meets the beautiful Nora, who exerts a powerful pull over the gangster.
As Kinsey's enquiries reach a dramatic head, it becomes clear that she and Dante have one thing in common -- they must be careful who they trust ...
Information
Format: Paperback
Pages: 368 pages
Publisher: Pan Macmillan
Publication Date: 01/08/2012
Category: Crime & mystery
ISBN: 9780330512770
Free Home Delivery
on all orders
Pick up orders
from local bookshops
Reviews
Showing 1 - 3 of 3 reviews.
Review by Heptonj
16/06/2015
I liked this book but felt it wasn't in the same league as the other alphabet stories and I really don't know why. Good plot, fits together nicely and a good ending for the characters you want to have a good ending, but seemed to take a long time to read. A bit drawn out maybe. But keep them coming please Ms Grafton - what on earth are we going to do after 'Z'?
Review by sianpr
16/06/2015
Kinsey Millhone on another outing as a feisty PI - this time looking into organised crime. The action gets diluted by the introduction of chapters in the voice of two other characters - neither of whom have any redeeming features, and sections with too much unnecessary detail. While I'm still a fan of the Kinsey Millhone character, the later books in this series are not as tight as the earlier outings. I also wonder if any PI could exist without a mobile phone and computer - references to typewriters and ancient office phones are not particularly compelling.
Review by iansales
16/06/2015
I've always much preferred crime novels which feature female protagonists, and my two favourite women PIs have always been VI Warshawski and Kinsey Millhone. I used to like Patricia Cornwell's Kay Scarpetta books until I realised the plot of every one was exactly the same. But, Kinsey Millhone… In this one, a gangster is trying to turn legit, a process that accelerates after he meets the bored wife of a Hollywood lawyer (who has discovered her husband is having an affair with his secretary). Meanwhile, the gangster's not-so-smart brother is causing irruptions by behaving like, well, a gangster. Millhone gets dragged into it all when she witnesses a shoplifter in action and reports her to store security, said shoplifter being part of a state-wide operation run by the aforementioned gangster. The Millhone books are framed as reports given by Millhone to her client, although the narrative is presented as your typical crime novel – including sections not in Millhone's POV… which sort of spoils the framing conceit. But never mind. I liked this entry in the series much more than the preceding few. Dante, the gangster trying to go straight, was sympathetic; I liked the narrative of Nora, the lawyer's wife; and the various subplots came together pleasingly at the end.