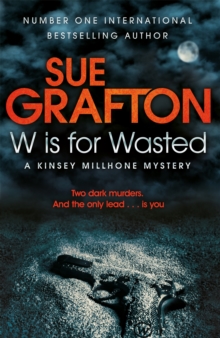 W is for Wasted
Paperback
Description
W is for Wasted is the twenty-third in the Kinsey Millhone mystery series by Sue Grafton.
Two dead men changed the course of my life that fall.
One of them I knew and the other I'd never laid eyes on until I saw him in the morgue. The first was a local private investigator of suspect reputation.
He'd been gunned down near the beach at Santa Teresa.
It looked like a robbery gone bad. The other was on the beach six weeks later. He'd been sleeping rough. Probably homeless. No identification. A slip of paper with private investigator Kinsey Millhone's name and number was in his pants pocket.
The coroner asked her to come to the morgue to see if she could ID him. Two seemingly unrelated deaths, one a murder, the other apparently of natural causes. But as Kinsey digs deeper into the mystery of the John Doe, some very strange links begin to emerge. And before long at least one aspect is solved as Kinsey finds the key to his identity . . . In this multi-layered tale, the surfaces seem clear, but the underpinnings are full of betrayals, misunderstandings, and outright murderous fraud. And Kinsey, through no fault of her own, is thoroughly compromised . . .
Information
Format: Paperback
Pages: 368 pages
Publisher: Pan Macmillan
Publication Date: 14/08/2014
Category: Crime & mystery
ISBN: 9780330512794
Other Formats
Hardback from £13.49
EPUB from £5.59
Free Home Delivery
on all orders
Pick up orders
from local bookshops
Reviews
Showing 1 - 1 of 1 reviews.
Review by reading_fox
16/06/2015
Much the same as all the others - the time lag discontinuity is really starting to tell now. Fortunately Grafton adds a few gratuitous reminders so that we remember it's set in '88 rather than the present day. the anachronisms of hunting for change to use a payphone kiosk must strike younger readers as particularly absurd.For one reason and another I've not been keeping up with this series recently and it appears I missed the last volume altogether. However that doesn't seem to make any difference in Kinsey's ongoing soap opera lifestyle. The same blokes appear, and her elderly neighbor hasn't yet changed in 23 books (and however many years it's supposed to have been). The random side-plots relate to Kinsey;s family on her father's side (conveniently forgotten about until now) and a kitten.The rest of the quest is somewhat contrived but not totally horrendously so. Kinsey's great uncle is a homeless person in ST, whom she doesn't know. When he dies (and is robbed) his sole possession is her name and number, accounts from his local down and out friends indicate he's been undecided about contacting her for some time. It takes Kinsey a while to realise who this person is, but as he had her number she feels somewhat obliged to do some minimal research - discovering some more extended family in the process. The other death that happens about this time is that of a local low-life PI, whom Kinsey had little time for, and it's only when Kinsey realises the same name crops up in both investigations does she start to wonder if they may be connected. Because Grafton's randomly inserted a couple of chapters out of time sequence from this PI's POV, do we as readers realise what's going on. It's far from my favorite writing technique and completely unnecessary, taking out any sense of mystery or suspense.As I said, much the same as the others, if you've enjoyed them this one won't disappoint, but they are thoroughly lightweight reading.
Also in the Kinsey Millhone Alphabet Series series | View all