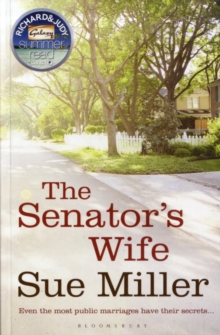 The Senator's Wife
Paperback
Description
Maybe some people just like to keep things private.
Secret, I guess you'd say. Love came late to Meri, but in a rush: she met Nathan at thirty-six, he moved in a month later, and they married a month after that.
Now they are moving to New England and a house of their own - a new life that Meri is not sure she even wants.
She loves her husband, but feels there may be trouble ahead.
Nathan, however, is boyishly excited that their next-door neighbour is the eminent Senator Tom Naughton, a political hero of his, now in his seventies.
The Senator is nowhere to be seen, but Meri strikes up an unexpected friendship with his wife, the elegant Delia, sensing that she has much to learn from her - about marriage, love and motherhood.
But soon she comes close to a terrible breach of trust that could ruin everything.
Information
Format: Paperback
Pages: 320 pages
Publisher: Bloomsbury Publishing PLC
Publication Date: 20/04/2009
ISBN: 9781408804315
Free Home Delivery
on all orders
Pick up orders
from local bookshops
Reviews
Showing 1 - 2 of 2 reviews.
Review by nocto
16/06/2015
I remember picking this up in the bookshop a couple of years ago - it was all over the place as a Richard & Judy choice I think - and putting it back down again without buying it. This time I spotted it going cheap in a book clearance shop and did buy it because I'd really enjoyed reading The Lake Shore Limited a few months ago. The story is told from two points of view. One of these is the viewpoint of the senator's wife herself, Delia, but the main one is that of Meri, who moves into the house next door to her as a newlywed trying to find her niche in both a new place and her new role of wife. I like the changing viewpoints and the changes in time - much of the "present day" story takes place in the 1990s with sections going back to earlier in Delia's life. I was surprised to read other reviews where people said they didn't like the characters or the writing as I liked both very much. I didn't always like the characters actions but I thought everything fit together well and everything was in character. I guess I like the way Miller incorporates so much everyday ordinariness into the story - the overall story is anything but ordinary but it is built up of regular components. I can see why this is considered to be a real "book group" book - there is plenty to talk about in the portrayal of the relationships. The only part I thought was lacking was any real fleshing out of Meri's husband Nathan who seemed for the most part to be a generic "ambitious young academic in New England". Maybe that was deliberate. I won't go into the ending as I don't want to spoil it for anyone. Only that I thought something of the sort was inevitable and I thought it was pretty well signposted and since it wasn't really a surprise to me it didn't really shock me. I'm not sure if it was supposed to. All in all, a really interesting read, and really very good. I liked it but didn't find it as deep and complicated, or as satisfying, as The Lake Shore Limited. I'll definitely be reading more of Miller's books before too long.
Review by AnneBrooke
16/06/2015
Sue Miller is another thoroughly reliable author, and this novel held me gripped throughout. The developing relationship between the two sets of neighbours - one newly married and one secretly separated - is very good indeed. I thought the portrait of a new marriage (the result of a whirlwind relationship) was simply top-notch, though I also enjoyed how the two women neighbours gradually take over the scenes. In essence, it becomes a novel about what women hide and what they reveal, and that's no bad thing. The powerful and bitter end is almost perfect - though I would have liked to have had another scene or two with the older woman neighbour as that would have rounded it off more effectively. Still, Miller is always quietly brilliant and I can recommend this one for sure.